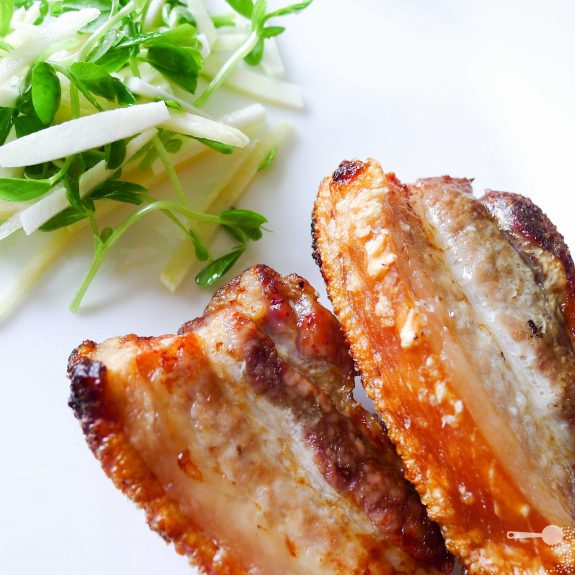 Crispy skin pork belly is one dish I'll never tire of. Juicy meat that simply melts in your mouth, and that crispy crackling that eventhough I'm no longer a kid, I always leave to last because it's the best.
I've always wondered how restaurants prepare pork belly so quickly from the moment it's ordered. It turns out it's simply cooked until tender, chilled and then warmed and blasted under the grill to create a crispy, bubbling crackling when an order is put through. And the process can be easily replicated at home, so if you're making a large batch, simply refrigerate a portion you'd like to serve later and crisp up the amount you'd like to serve at each meal. 
Now, I've done big cuts of belly before, which take 3-4 hours to cook, but recently I've started to use pre-cut boneless pork spare ribs with rind on. This way the roast can be ready within an hour and enjoyed even during the week.
And while the cut is fattier than your average steak, it is full of flavour and, calories and cholesterol aside, it is always a real crowd pleaser. Especially when prepared well. I know, I always get excited when there's pork belly in sight.
Serves 2
Crispy roast pork belly with parsnip slaw
Choose a cut of belly cut into spare ribs (with rind on) that has even layers of meat and fat. The fatty layers should be present but not too thick as they may be stubborn to render.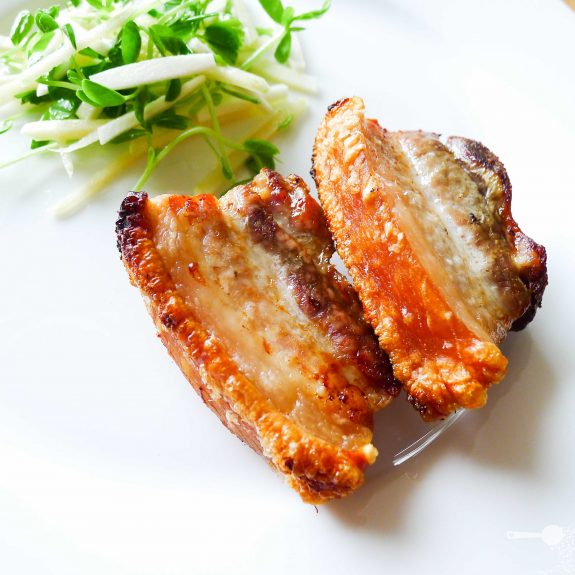 Pork belly
6 x pieces of pork spare ribs, rind on (I used small 1in wide 3in long pieces)
1 tbsp sea salt flakes, plus 1 tbsp extra for sprinkling
1 tbsp oil
apple sauce to share
Parsnip swede and pea sprout slaw
1 parsnip
1 small swede
a handful of pea sprouts
1 tbsp lemon juice
1 tbsp olive oil
Pork belly: boil a kettle of water. Place pork pieces in a roasting tin and pour over enough boiling water to cover the rind. Allow to sit for a minute, discard water. Transfer pork pieces to a cutting board and pat dry with paper towels, making sure the skin is dried thoroughly. Using a sharp knife score the rind finely longways then on a diagonal, about 2mm apart. Transfer back to a roasting tray and refrigerate uncovered for 20 minutes for the rind to dry out.
In the meantime, preheat oven to 150C (130C fan forced, 300F, gas mark 2). Mix salt and oil in a small bowl. Rub into the scored rind and place belly standing up in the tray. Add enough water to the bottom of the pan to create a 1cm deep bath. To prevent pieces from falling over, you can fill the free space in the tin with scrunched up aluminum foil.
Roast pork belly pieces for 40 minutes, then turn the heat down to 140C (120C fan forced,  275F, gas mark 1) and roast for a further 15 minutes. At this stage you can remove any pieces you'd like to reserve for later. Cool to room temperature then refrigerate.
Change your oven setting to grill and turn up to medium high (200C, 400F, gas mark 6), sprinkle extra salt on the rind and grill it for 1-2 minutes, or until the crackling becomes bubbly and crisp.
Parsnip and swede slaw: peel parsnip and swede. Slice finely then julienne. Trim a handful of pea sprouts, reserving only the leafy parts. Mix all together with lemon juice and olive oil.
Serve: a couple of pieces of pork belly alongside the slaw  and a spoonfull of apple sauce – it goes really well with this dish.