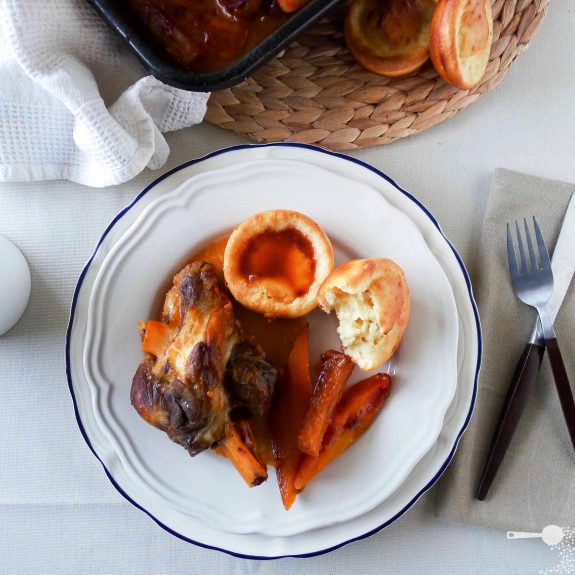 I love a good piece of braised meat in winter. Cooked slowly in the oven, it not only makes the meat wonderfully tender, but it fills the house with a magical warmth and our minds with memories of  those homely Sunday roasts. Mmmemories.
Instead of making the ususal thick, sticky sauce, which can be a little heavy, I opted for a light, almost soupy, tangy tomato and stock sauce. The meat was so tender you didn't even need a knife to cut through and the veggies were rustic and had a nice balance of flavours, somewhere between earthy and sweet. Simplicity at its best.
I actually like to take the meat off the shanks before serving to make it less cumebrsome to eat, plus it helps get rid of any fatty or chewy bits often lurking around on this cut. Chilling the sauce before serving also helps skim off most of the fat, lightening up the sauce if you care about such things.
Add a novelty of easy pantry-staple Yorkshire-style puddings to mop up the sauce and you have a feast on a budget. The puds are great for dessert too, smothered with good quality jam. They remind me of the Polish yeast pancakes called racuchy. Ahh, more memories indeed.
PS Don't forget to enter my Tucker's Natural giveaway here – all you need to do is leave a comment.
Serves  2-4, makes 12 puddings
Braised lamb shanks with Yorkshire-style puddings
I say that it serves 2-4 because I only use 2 shanks for the recipe, which yields about 200g of pure meat per person. I like to take the meat off the bone before serving – this way it is easier to serve the meal between 4 people, but the yield becomes only 100g of meat per person. 
The dish keeps well in the fridge for lunch, and the puddings, unlike their original counterparts, can be easily refreshed in the microwave or the oven, so if you opt for a smaller serve for dinner, you'll be sure to have a delicious lunch the next day.  
Braised lamb shanks
2 lamb shanks (about 0.5kg each)
4 cups of chicken stock
2 tbsp tomato paste
2 carrots
1 swede
6 cloves of garlic
2 tbsp olive oil
Yorkshire-style puddings
1 cup plain flour
1 cup milk
1 egg
1 tsp baking powder
1/4 cup vegetable oil
Lamb shanks: preheat oven to 160C (140C fan forced, 325F, gas mark 3).
Peel carrots, swede and garlic. Cut carrots longways then into 3 chunks on the diagonal. Slice swede and cut into thick "chips". Slice garlic. Wash shanks under cold running water and pat dry with a paper towel.
Heat 1 tbsp olive oil in a large pot. Add vegetables and garlic, stir fry for a couple of minutes to release the flavours. Transfer to a bowl. Heat remaining oil and add shanks. Brown for a minute on each side. Transfer to a roasting tray. Spread vegetables evenly around the shanks. Combine stock and tomato paste, pour into to roasting dish. Cover tightly with aluminium foil and roast for 2 hours. Lift foil and prod the meat, if the largest chunk is still not coming off the bone easily, cook covered for a further 30 minutes.
When ready, remove from oven and cool down to room temperature. At this stage the fat should have risen to the top of the sauce forming an opaque crust. Remove as much of the crust as possible and discard, that's the strong-flavoured lamb fat.  I like to peel the meat off the shanks now as well – you don't have to do this, but it makes the meat more moist and easier to manage. When ready reheat the meal in the oven on the bottom shelf, while the Yorkies are cooking on the top.
Yorkshire-style puddings: sift flour and baking powder into a 4 cup capacity measuring jub or a spouted bowl. Make a well in the centre. Whisk together egg and milk, pour into the flour and whisk until there are no lumps. You can make the batter in advance as some recipes suggest to rest it for 30-60 minutes, or you can use it straight away.
Preheat oven to 230C (210C fan forced, 450F, gas mark 8). Place 12 hole muffin tray into the oven on the top tray and let it heat up for 5 minutes. Place oil in a small saucepan and heat until it is lightly smoking.
Remove muffin tray from the oven – shut the door to keep the oven hot. Add 1/2 tablespoon of hot oil into each hole and quickly pour in the batter, filling up each hole to about 1/3 way up.  Place back in the oven on the top tray. *Place the lamb and vegetable roasting tray on the bottom shelf to reheat. Reduce temperature to 200C (180C fan forced, 400F, gas mark 6) and cook for 15 to 20 minutes.
Serve: 2 puddings with a shank or shank meat, vegetables and a good ladleful of sauce over the meat and puddings.