I have fallen into the habit of calling every new grain I serve the kids, "rice". Mainly, because they like rice and I am certain  they won't turn up their noses each time I serve it…
Is it wrong? I don't know. I don't think so… Besides, once they "try a little bit" – I never force them to, and admit to liking whatever new grain it may be, I expand on the name and explain that this is a new type of "rice"… 'Tonight we are having buckwheat rice', I say. They smile and eat up.
If there is one thing I hope for is that they don't come across a "rice" they really don't like. One that will turn them off loving the real rice and its imaginary, already-liked, derivatives forever. Having said that, I think it's important to try different things so I cook up all the different "rices" from time to time to test the waters.
This buckwheat 'risotto' was no exception and turned out to be quite the crowd pleaser. There were even requests for seconds, which made my cunning plan work its magic one more time. I thought it was quite fitting, too, that eventhough it is made with buckwheat, the dish most closely resembles a  risotto…
Have you ever used trickery to convince kids to eat certain foods? Have yous succeeded or has your plan backfired?  Or perhaps you recall being tricked yourself once upon a time? I would love to hear your stories.
Serves 4
Roasted buckwheat 'risotto'
You can mix and match whatever ingredients you like to go along with the roasted buckwheat base. Smoked sausage, beef or veal goulash, chicken in mushroom sauce or tabouleh-style topping are all great accompaniaments to this simple dish. My favourite and the quickest is the shredded barbecue chicken and green veg option. I like to add a little diced tomato to this, and steamed carrots to leftovers but both are optional.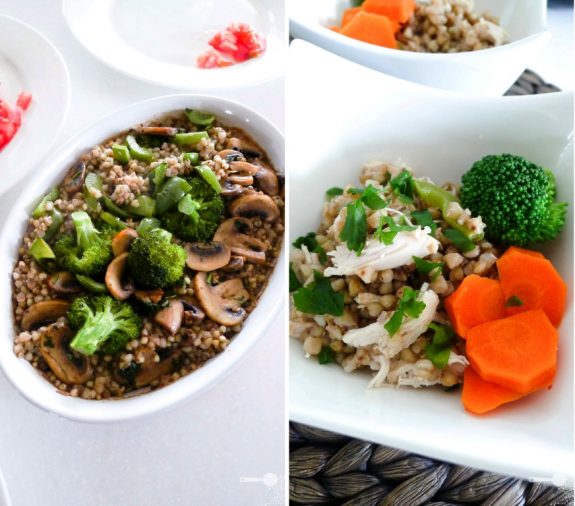 Buckwheat base:
1 cup raw buckwheat
2 cups stock
2 cups water
1 tbsp butter
Chicken and veg option:
1/2 barbecue chicken, quartered
1 cup broccoli florets
1 green capsicum, quartered and sliced finely
6 mushrooms, sliced
2 tbsp chopped fresh parsley
Salt and pepper to taste
Extra butter, fried bacon or gravy, to serve
Preheat oven to 180C (160C fan forced, 350F, gas mark 4).
To prepare the 'risotto': Rinse raw buckwheat under cold running water. Place buckwheat, water, stock and butter in a large oven proof dish (the buckwheat will expand while cooking). Cook uncovered in a preheated oven for 15 minutes.
In the meantime, heat a non-stick pan on high heat. Add capsicum and mushrooms. Cook until lightly browned.
Remove buckwheat from oven, stir, mix in broccoli, mushrooms and capsicum. Seasona  with salt and pepper to taste. Cover with aluminum foil and cook for a further 15 minutes, or until the buckwheat is al dente and veggies still have a gentle crunch.
To serve: Heat chicken in a microwave. Divide buckwheat between 4 plates. Sprinkle with freshly chopped parsley and drizzle with gravy, melted butter or bacon drippings.
Tip: this roasted buckwheat 'risotto' can also be eaten cold – brought to room temperature, as a salad with leftover chicken shredded and mixed in. Goes well with steamed carrots or diced tomatoes.