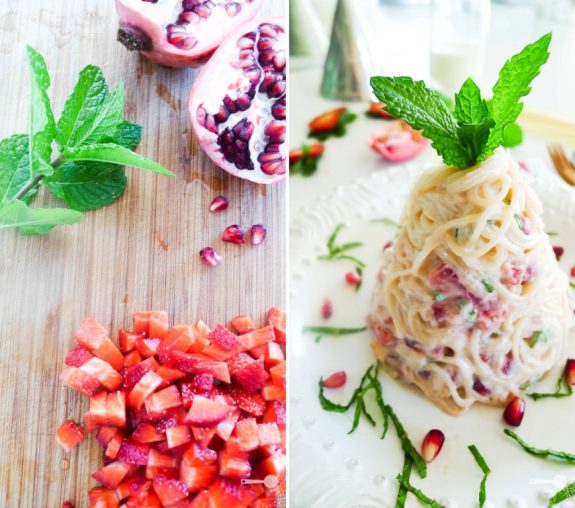 To me, nothing heralds the arrival of Summer better than fresh, juicy berries coming into season.
Our suppers have always been influenced by seasonal variety. Long Summer days were spent in the woods on the way from the beach, picking wild blue and alpine berries. My Granddad's garden also provided some of the most flavourful wild raspberries protected from the birds and me by the plant's thorny branches. I didn't mind the scratches, and I would happily spend hours munching away on the fruits in the warm afternoon sun.
And while the French used what nature provided for their mixed berry soup, we took comfort in our blueberry and cream dumplings and strawberry spaghetti. With that amount of pasta, you could almost be excused for thinking we were Italians…  But what a pasta it was! Light, and fragrant and delicious. Never a chore to eat.
For a more modern, and perhaps grown up version, I have added some pomegranate seeds and fresh spearmint. They also add a bit more texture and a burst of colour to the dish. To be honest, I would happily have this any time of the day: breakfast, lunch, dinner or even dessert when a scoop of creamy vanilla, or better yet, chocolate ice cream could be added to make it that much more special!
Yum!
Giveaways – now closed
To win an Olympus VG-110 camera: comment on any of the 30 Royal Selangor Get Your Jelly On challenge posts on my blog – multiple entries allowed. Camera giveaway is open worldwide! Entries close October 30, midnight AEST. Winner(s) will be announced on the blog on October 31.
To win the Cuisinart ice cream maker: enter here.
Serves 1
Strawberry, pomegranate and mint spaghetti
If you don't like mint, you could use basil in this recipe. Quark, cottage cheese or mild feta are added for extra sustenance and to help balance the sweetness of the flavours if you wish.
Pasta:
40g dry angel hair spaghetti // or fusili
For the sauce:
1/4 cup thickened cream
3 strawberries, hulled
1/4 pomegranate, seeds only
4 mint leaves
2 tbsp quark // or cottage cheese // or crumbly feta
Prepare the angel hair spaghetti according to packet instructions. In the meantime, prepare the strawberry and pomegranate sauce.
To make the sauce: chop strawberries into small dice. Add cream and mix well, squashing with the back of a fork to release some of the juices. Tear mint leaves into the sauce, add pomegranate seeds and cheese.
Add sauce to the drained pasta and mix well. Spoon spaghetti into the mould and turn out onto a plate.
To serve: sprinkle around with some pomegranate seeds and garnish with a mint leaf or two.