When I was contacted by Game Farm to sample some of their fine quail products, I quickly jumped on the opportunity because I love the flavours of the little birds. Game Farm's produce is HACCP and halal accredited and as the largest multi-species game bird producer in the Southern Hemisphere their retail range includes duck, spatchcock and a variety of delicious quail products, in addition to a number of other birds available by direct order.
Considering my recipe options carefully, I had decided to go with two dishes which I think showcase the simplicity with which the breasts are cooked while highlighting the complexity of flavours of this gamey meat.
The first, sticky braised quail breasts with fried quail eggs, is an Asian inspired dish full of five spice aromas and a sweet flavour from the sticky glaze. The quail breasts are braised to keep the meat succulent and infuse all those wonderful flavours into the fillets. The eggs, tiny as they are, a fried sunny side up until the whites are crisp around the edges while the yolks remain runny. It's a perfect dish for more formal affairs.
My second choice, Scotch quail eggs with lingonberry jam, was inspired by a recent visit to District Dining where Warren Turnbull's team churns out one of the best appetizers ever, the crispy quail egg ($14). My version, however, consists of quail breast mince in which the egg is encased and lingonberry jam (from IKEA Food) to complete the gamey, forest inspired dish. While I tried to keep the yolks soft, between the short boiling time and then frying off the mince rolled eggs, they did harden. Nevertheless, I think it was a better outcome considering the saucy nature of the jam which would have clashed with the runny yolk. These were my favourite, wonderfully moist and great as finger food.
Now it's not often that I get to enjoy quail in the comfort of my own home, mainly because Mr Chipconnoisseur is yet to warm up to the flavours of game. One day he will get there, I'm sure, but for now the indulgence is all mine to keep.
Serves 2
Sticky soy quail breats with fried quail eggs
Because they are tiny, braising quail breasts in a fragrant, Asian-inspired liquid helps the meat retain moisture and infuses it with wonderful aromas of warm herbs and spices. Leave the skins on to keep more moisture sealed in. Serve with steamed or garlic fried rice. While I left the seeds in my chilli to accentuate the spice, feel free to deseed your chilli first.
For the sticky soy braised quail breasts:
200g Game Farm quail breasts, skin on
Marinade:
1 cup salt-reduced chicken stock
3 tbsp soy sauce
10g fresh ginger, peeled and chopped roughly
1 sprig of spring onion, chopped roughly
1 tsp fresh red long chilli, chopped finely
1/8 cup brown sugar
1 tsp five spice
Sticky sauce:
reserved braising liquid, strained
1/8 cup brown sugar
For the fried quail eggs:
4 quail eggs
4 tsp peanut oil
To serve:
2 tsp chopped chives
coriander (cilantro) leaves
steamed rice
To make the marinade: combine all ingredients in a bowl large enough to hold the breasts as well. Mix well until the sugar dissolves. Add quail breasts and marinade for 1-2 hours.
Preheat oven to 180C (160C fan forced, 350F, gas mark 4).
To braise the quail breasts: place marinated breasts along with the marinade into an oven-safe dish or tin, spreading them out into a single layer. Cover tightly with aluminium foil and braise in the oven for 25 minutes. Remove from oven, transfer into another bowl and leave to cool, reserving the braising liquid. In the meantime prepare the sticky sauce.
To make the sticky sauce: place strained braising liquid and brown sugar into a small saucepan and heat over small heat to reduce to a warm honey-like consistency. Keep an eye on it as you don't want it to burn. When it's ready, add braised quail breasts, smother them in the sauce and allow them to warm through. In the meantime, fry the eggs.
To fry quail eggs: use a large pan so that the eggs won't stick together. Heat 4 "patches" of peanut oil in the pan over medium high heat. Break quail eggs into each spot and fry, sunny side up until crisp eround the edges, the whites have set but the yolks remain runny.
To serve: place sticky quail breasts on top of steamed rice, add fried eggs as a side and garnish with some chopped chives and coriander leaves.
Makes 5
Scotch quail eggs
I think traditionally, Scotch eggs are made with a mixture os sausage and regular mince. For mine, I used Game Farm's quail breasts to make the mice. Lingonberry jam can be easiest found at, out of all places, IKEA Food. When frying the "meatballs" stand back a little or use a splatter guard as the oil may spit around because of the water content of the marinade from the Worcestershire sauce.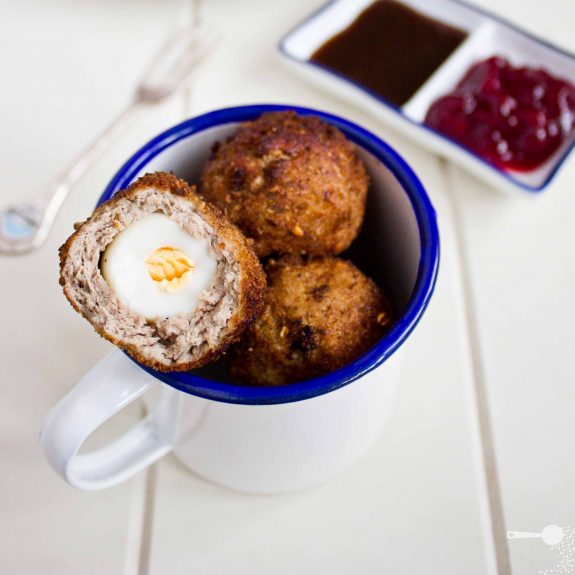 For the Scotch quail eggs:
For the quail breast mince mixture:
200g Game Farm quail breasts, skin off
2 tsp Worcestershire sauce
2 tsp Italian dried herb mix
1 tsp freshly ground black pepper
1 tsp peanut oil + extra for shallow frying
1/2 cup multigrain breadcrumbs
To serve:
To cook the quail eggs: place eggs in a small saucepan filled with lukewarm water. Bring to a boil, and cook for a further 90 seconds. Drain and place in another bowl under cold running water for a couple of minutes to stop the cooking process. To peel, roll the egg around gently on the benchtop. Store in the fridge, covered, until ready.
To make the quail breast mince: process skinless quail fillets in a chopper attachment of your stick blender or in a food processor until almost smooth. Add Worcestershire sauce, Italian herb mix, pepper and a teaspoon of peanut oil. Mix well and allow to marinade for at least 2 hours.
To make Scotch quail eggs: place breadcrumbs into an easily accessible bowl. Divide the mince into 5 even quantities. Using one hand (I've found gloves help) and a spoon, flatten the mince gently, push a quail egg into the middle then wrap the meat around so that no egg is visible. Drop into the breadcrumbs and roll around to cover. Repeat with the rest.
To fry: place enough oil in a small saucepan to come about 1cm up the meat balls.  Heat oil over small heat until very hot but not smoking. Using tongs, place heatballs gently into the pan and cook for about 20 seconds on each side, plus any parts that may not have browned. Remove from the pan and drain on some kitchen paper.
To serve: arrange warm Scotch quail eggs on a plate and serve with a little bowl of lingonberry jam for dipping.