Oven-baked Chicken Kievs made from fresh, not frozen meat but with the same delicious garlic butter juices and extra crunchy coating. Ready to eat in 30 minutes.
Another recipe that's somewhat of a classic, and one that I used to thoroughly enjoy as a child. Mum would often make De Vollailes with a salted cucumber salad on Sundays in place of a Sunday roast – her gas oven was very temperamental, perhaps that's why she had a home rotisserie *wonders*
My oven-baked version of the Kievs is quite simple really and can be easily adapted for gluten and dairy allergies.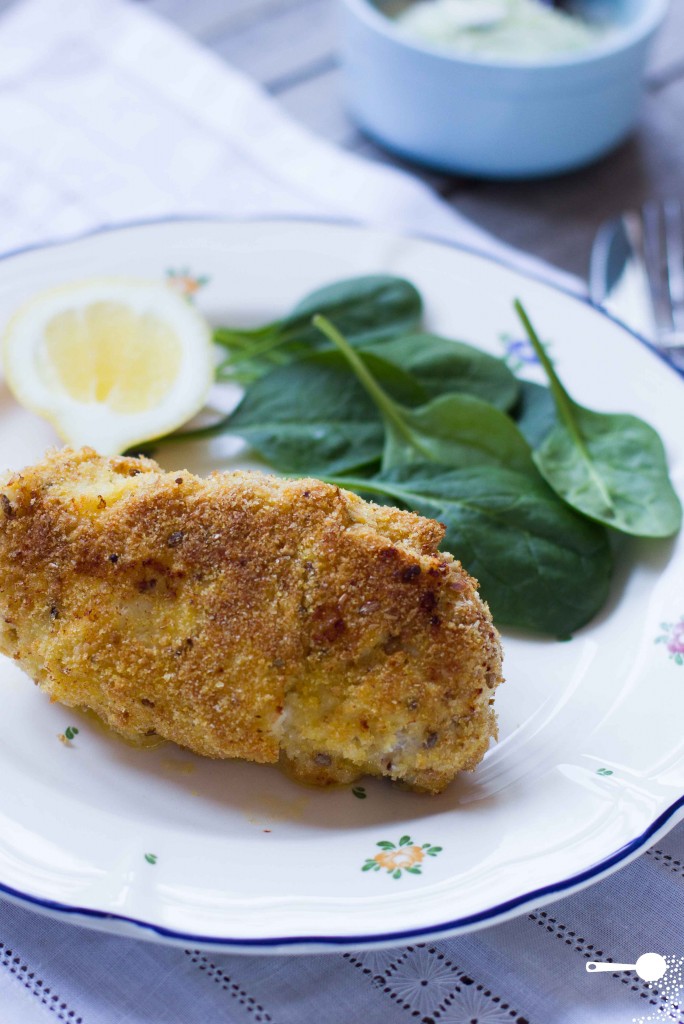 Most traditional recipes ask that you freeze the rolled up chicken breasts before coating and deep frying. Frankly, who has the time nowadays, and unless you are prepping them for dinner the week coming, I suggest making them fresh.
And whichever breadcrumbs you choose – sourdough, multigrain or even gluten-free, do yourself a favour: double coat the Kievs. There's something magical about the thick crunchy skin on that chicken. Now, the trick to securing the juices inside the Kiev without pre-freezing, and aside from the double coating which helps, is to use toothpicks; 2–3 per roll. Remove just before serving. I missed one so Mr Chipconnoisseur got a bit of a fright.
As for the Cucumber Salad, it's one of the most refreshing, spring-smelling salads I know. 4 simple ingredients: cucumbers, salt, cream and dill. And in my own version, some baby spinach leaves as well. Not much can beat that.
2 x 150

g

free-range skinless chicken breasts

30

g

butter

3

garlic cloves. crushed

2

tsp

Freshly chopped parsley

2

tsp

lemon juice
1

egg

15

g

butter

melted

2/3

cup

breadcrumbs of your choice
1

cucumber

sliced thinly with a vegetable peeler

1/2

tsp

salt

1/2

cup

fresh cream

1/2

tsp

chopped dill

1

cup

baby spinach leaves
To prep the chicken breasts:
Butterfly the chicken breasts - using a sharp knife cut the breast almost in half horizontally. Open up, you should have one heart-shaped piece.

Tip: cover chicken with a sheet of cling film to avoid bits flying around.

Flatten the breats to a uniform thickness of about 0.5cm (1/4in) with a meat tenderiser.
To roll up the Chicken Kievs:
Working from the wider side, place half the butter and garlic into the middle of each breast.

Drizzle with lemon juice.

Now roll up each breast tighly, folding in the sides a little.

Secure sides and middle flap with toothpicks.
To coat the Chicken Kievs:
Whisk together egg and melted butter.

Roll each Chicken Kiev in the egg until evenly coated.

Dip into breadcrumbs and roll until coated.

Repeat the process one more time for each Kiev.
To bake the Chicken Kievs:
Place crumbed Kievs on a baking tray and bake on the top shelf of a pre-heated oven for 20 minutes, turning over half way through.
In the meantime make the Cucumber Salad:
Place sliced cucumber and salt in a bowl.

Mix well and refrigerate for 10 minutes.

Add cream and dill then mix well.

Lastly, add spinach leaves and mix again.
For a gluten and dairy free version: use gluten-free breadcrumbs and dairy-free spread. Recipe at Wholesome Cook