An old-fashioned Blueberry and Lemon Curd Slice that can be ready to bake in 15 minutes. Inspired by Delicious magazine.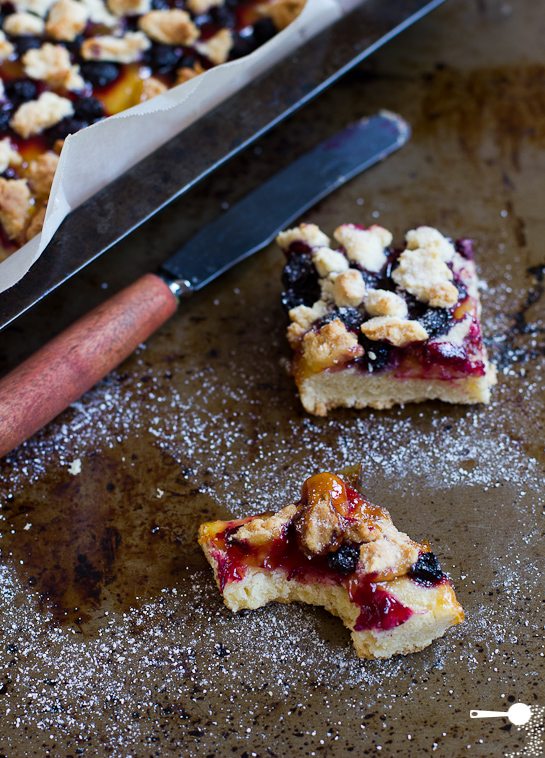 Let's be honest for a moment.
How many times have you bought a magazine and cooked from it cover-to-cover? Once or twice maybe, but most likely never? Don't worry, you're not alone. In fact, I might be the worst offender of all. I always flick through for seasonal inspiration, but hardly ever follow the recipes to a tee, until recently that is. Well, sort of.
When the little girl received an invitation to an afternoon tea farewell last week, I got excited! Only because big events like this give me the perfect excuse to bake to my heart's desire and try out those recipes that serve 8 or more. I've recently taken to bookmarking recipes I'd like to try or have been inspired by, saving them from falling into my magazine shelf's oblivion, never to be found again. After bookmarking, I tear out the pages and file them away in a big lever arch folder for future use. 
How do you keep track of recipes you've found in books and magazines that you liked?
My inspiration? It came in the form of Ben O'Donoghue's Lemon Curd Slice from the current August issue of Delicious magazine. Now this is where the "well, sort of" part actually comes in. I had some leftover New Zealand lemon curd in the fridge from client recipe testing earlier so that was a straight tick. A half-full packet of frozen blueberries and my own no-need-to-chill low-sugar pastry recipe completed the slice with my own little twist. As much as I'm confident that Ben's pastry was divine, I haven't been blessed with the most patience which was the reason why I chose to use my own pastry: ready to bake in 15 minutes, can't beat that!
Blueberry and Lemon Curd Slice
Frozen blueberries can be substituted with fresh, or simply double the amount of lemon curd.
Ingredients
For the Blueberry and Lemon Curd Slice:
100

g

butter

1/4

cup

unrefined sugar

1

egg

1/4

cup

Greek-style yoghurt

2

tsp

vanilla extract

2

cups

plain unbleached flour

2

tsp

baking powder

3/4

cup

lemon curd

3/4

cup

blueberries

To serve:

2

tbsp

golden icing sugar
Instructions
To make the Blueberry and Lemon Curd Slice:
Chop butter with a knife, add sugar and work together with with fingers (wear latex gloves if you like) until the sugar is mixed into the butter.

Add the egg, yoghurt and vanilla essence then continue to mix until the mixture becomes smooth.

Add half the flour and baking baking powder and mix to combine.

Add the rest of the flour and bring the whole dough together into a ball with your hands.

Roll out 3/4 of the dough in between 2 sheets of baking paper to about 5mm (1/4 inch) thick.

Place pastry in the paper-lined tray and spread to the edges.

Prick the base of the pastry around with a fork, spread lemon curd evenly over the pastry and sprinkle with blueberries.

Dot the slice with chunks of leftover pastry.

Bake for 30-35 minutes, or until the pastry is nice and golden brown. Remove from oven and cool on a wire rack.
To serve:
Cut into squares and dust with icing sugar before serving.
Subscribe to receive Recipes to your Inbox: