How to Make Sprouts at Home | Easy Guide with Soaking Times
Making sprouts – activated live plantfood, at home is easier than you might think, cheaper, and less wasteful as well as you can make as little or as much as you need at a time. It's all about soaking and sprouting times, so stick to the guide of 18 soaking times outlined below and you'll be set. 
Benefits of Soaking and Sprouting
Soaking and sprouting is said to neutralise the plants' own protective enzyme inhibitors which can be make seeds and grains hard to digest (this is why birds are such good sowers of plant-life). These can cause bloating and indigestion in some people. Soaking and sprouting grains and legumes turns them into living plants, making nutrients like vitamin B and C more bioavailable. Sprouting also makes legumes alkaline.
We love the fresh green flavour of sprouts and often enjoy them as a snack or add them to salads. Lentils and chickpeas are some of our favourites, but sunflower seeds and beans of all sorts are great too! Check out this article about what's so special about sprouted wheat.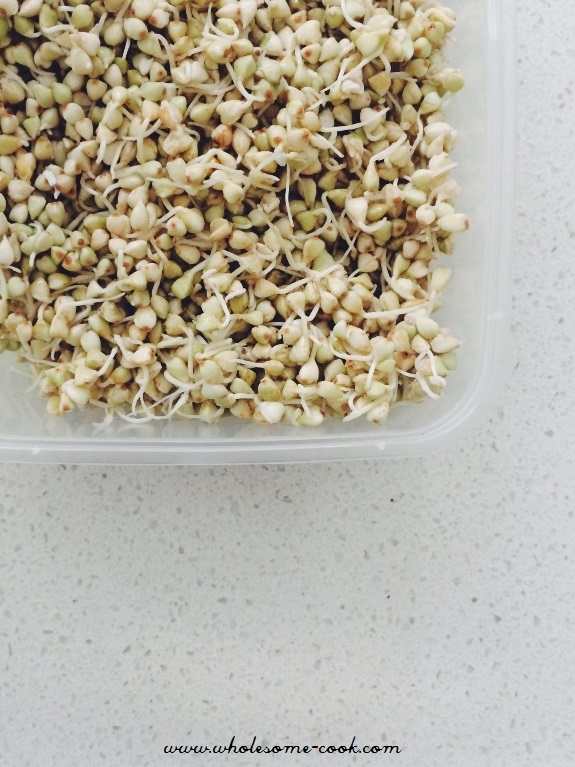 Soaking and Sprouting in 3 Easy Steps
1/2

cup

nuts, seeds, grains or legumes

(soaking guide below)

cold filtered water
1/2

cup

nuts, seeds, grains or legumes

(soaking guide below)

cold filtered water
Place a desired amount of nuts, seeds, grains on legumes in a clean glass bowl, jug or jar and cover with enough filtered water to come up about 2 inches above. Soak for the required time - see table below. Drain using a sieve then rinse with filtered water.

If sprouting, leave the food inside the sieve and leave at room temperature for the required time (see table below) to sprout. Dip in filtered water for a couple of minutes every few hours to "water" the sprouts.

Once sprouted to about half a cm long, transfer sprouts to an airtight container and store in the fridge for 2-5 days.
I recommend filtered water to best feed the plant but also because it will be absorbed by it and ingested without cooking by us. 
Soaking and Sprouting Times for Nuts, Seeds, Legumes and Grains
| | | |
| --- | --- | --- |
| Adzuki beans | 8 hours | 3-5 days |
| Alfalfa | 8 hours | 1-3 days |
| Almonds | 8-12 hours | 12-24 hours |
| Barley | 6-8 hours | 2 days |
| Buckwheat | 30 minutes | 1-2 days |
| Cashews | 2-8 hours | does not sprout |
| Chickpeas | 12 hours | 12-24 hours |
| Corn | 12 hours | 2-3 days |
| Lentils | 8 hours | 12-24 hours |
| Millet | 8 hours | 2-3 days |
| Mung beans | 24 hours | 2-4 days |
| Peas (Sugar Snap) | 24 hours | 3-5 days |
| Pepitas (pumpkin seeds) | 8 hours | 1-2 days |
| Quinoa | 2 hours | 1-2 days |
| Rice | 8 hours | 3-5 days |
| Spelt and Rye | 8 hours | 2-3 days |
| Sunflower seeds | 6 hours | 2-3 days |
| Wheat | 6 hours | 2-3 days |