♣ Happy St Patrick's Day! Lá Fhéile Pádraig Sona Daoibh! ♣
According to Wikipedia, St Patrick's day, celebrated by the Irish on March 17th, is characterised by attendance at churches, wearing green attire and, what seems to be the reason for most of the celebrations, "the lifting of restrictions on eating and drinking". The biggest celebrations take place in Dublin, but St Patrick's Day has also been the day for the Irish in Australia.
On 17 March 1795 there were rowdy festivities among the Irish convicts, and the cells were filled with prisoners.By the early 20th century, parades were held in capital cities and rural centres. These were demonstrations of connections with an Irish Catholic past, or support for Irish political causes. Today, St Patrick's Day in Australia has evolved into a fun day marked by revelry, green beer and comical hats. On that day, some say, there are only two kinds of people — those who are Irish, and those who wish they were. (Source: National Museum of Australia)
While I'm neither, the notion of "lifting of restrictions on eating and drinking" gets me pretty excited. So much so that I've decided to Irish-up my Mum's version of the humble beer bread with a good splash of Guinness.
Love it or hate it, because the views on the distinctive bitter taste of the dark ale from Dublin are as polarised as day is far from night, I'm totally in love with this simple 4 ingredient bread. It's crusty where it should be. Deliciously moist on the inside with big air bubbles that make a good bread, well, good. There's no need to knead either, just fold, bake and be merry!
Makes 1 loaf
Guinness bread for St Pat's Day
Any full bodied draught beer can be used in this recipe, but I find that Guinness gives the bread a wonderful character that goes well with pickles, salamis or simply, a generous slather of good organic butter. I used a half half ratio of plain and wholemeal flour, but you can increase decrease this as you wish. Spelt flour also works well. Prepare 1 day ahead. You will need a round oven-safe dish with a lid (dutch oven or casserole), heatproof to 240C.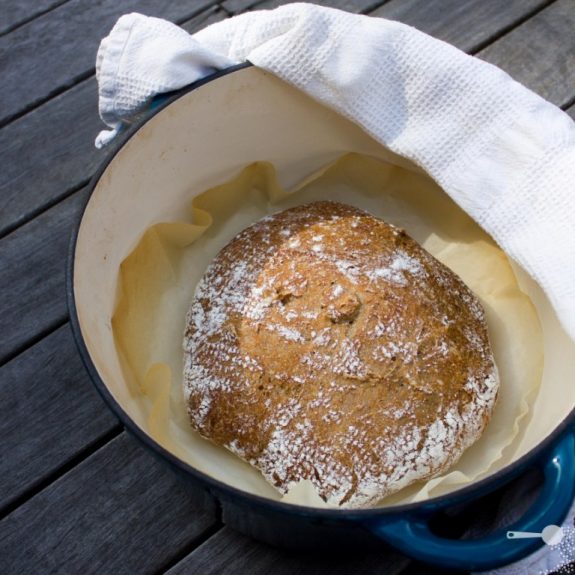 For the Guinness bread:
400g plain flour (see note above)
3/4 tsp dry yeast
1 1/4 tsp table salt
300g (yes, grams) Guinness draught beer
To make the starter: sift flour into a large bowl. Add salt, yeast and Guinness. Mix for about 30 seconds, until the flour has been incorporated. Scrape starter into the middle of the bowl, cover with cling wrap and st aside in a warm spot for 12-18 hours, or overnight.
To make the bread: once the starter is ready, it will be wet but pliable, fold it over itself 3 times. Dust a clean kitchen towel with extra flour and transfer the dough, fold-side down onto the towel. Cover up with the edges of the cloth and set aside in a warm spot to rise for 1.5 hours, it should roughly double in size.
Prepare to bake: place your baking dish in the oven, on the second rack from the bottom. Heat oven and dish until temperature reaches 240C (220C fan forced, 475F, gas mark 9).
To bake: carefuly remove your baking dish from the oven. Line the bottom of the dish with some non-stick baking paper. Gently lift the bread off the kitchen towel and trasfer into the baking dish. Dust with a little flour, cover with a lid and bake covered for 30 minutes.
After 30 minutes, remove the lid and bake for a further 10 minutes uncovered to crisp up the crust. Cover the loaf loosely with aluminum foil and bake for a further 5 minutes.
To serve: remove bread from the oven and allow to cool slightly on a cooling rack before slicing. Serve still warm with some good quality butter, cold cuts and pickles. Oh, and a pint of Guinness if you wish.