Many people are not sure how to eat or cook blood pudding (also known as black pudding). I thought I'd share this simple blood pudding recipe using pork belly's least popular cousin.
What is black pudding?
Blood pudding (black pudding or kaszanka [ka-shan-kah] in Polish) is a pork sausage filled with buckwheat pork and pork blood. Similar to the Spanish morcilla, French boudin noir and German Blutwurst, only better.
How to cook blood pudding?
It's sweet and delectably crunchy on the outside when grilled or fried. Enjoy it cold, sliced as part of a meat and cheese platter. Because of the buckwheat filler, unlike the German Blutwurst, it actually has a pleasant non-pasty texture. Really worth a try!
Since April is a month of PorkFest in Australia, and the sausage is rumoured to make an appearance at the London 2012 Olympic Games,  I thought I'd share this simple blood pudding recipe.
Growing up, one of my favourite meals at home, at the school or at a weekend grill was kaszanka. The great thing about the sausage's Polish name is that nowhere does it mention blood. It's named after buckwheat, the other main filler specific to the Polish version of this delicious but slightly vampiric sounding sausage.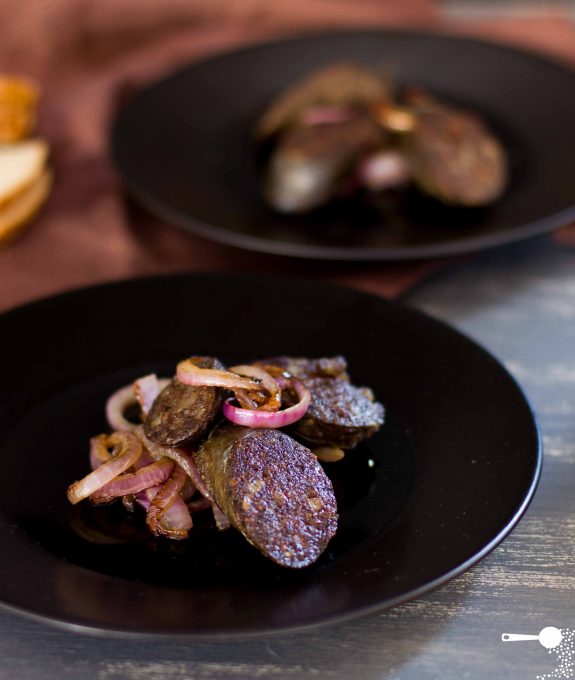 Polish blood pudding recipe with caramelised onion
Polish black pudding (kaszanka) is best for this recipe as it contains buckwheat and when it cooks the sausage retains its shape better. But other varieties can be used also. The recipe itself is simple, but very satisfying. It calls for plenty of onion and pepper, and as with most Polish dishes, a side of lightly buttered sourdough.
Ingredients
2

blood pudding sausages

or Polish kaszanka

4

tablespoons

olive oil

2

red or brown onions

peeled and sliced finely

freshly ground black pepper

2

slices

sourdough

for serving
Instructions
Slice black pudding into 4-5 rings on a diagonal.

Heat oil in a medium-sized pan over medium heat. Add onion and pepper. Cook, stirring for about 5 minutes or until translucent.

Push onion to the sides of the pan and add black pudding slices. Cook for 2 minutes on each side, or until the sausage becomes lightly crunchy and browned on the outside.

Transfer to your serving plate from the pan and serve with a slice of fresh rye sourdough.