Karpatka, a Polish version of a vanilla custard slice is made with sheets of choux pastry filled with a creamy, light layer of custard cream.
How to make Karpatka custard slice?
Funny story. Once, someone actually found my blog by googling for a "shoe pastry recipe". I assure you there are no shoes called for in this recipe. The choux pastry, pronounced indeed as shoe, is quick and easy to make and not as scary as it may sound. And, it's the pastry that makes the slice my favourite from amongst other nations' custard slices.
But it has taken me two years to finally make this Polish custard slice from a recipe I was entrusted with by my cousin, a self-professed dessert queen.
Her version is true to the traditional Polish recipe, named after Karpaty (Carpathian Mountains), a 1500km long mountain range in Southern Poland.  Unlike the traditional French Mille-Feuille, it is made with choux pastry, which once cooled gives the slice its trademark Carpathian shapes of ridges and valleys.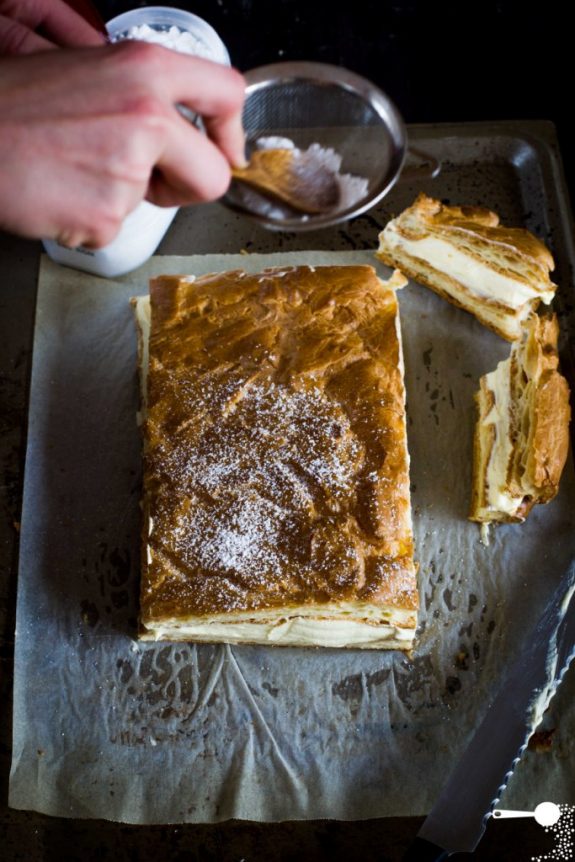 The filling is light and airy, not gloopy like some of the store-bought slices can be. The secret to this lies in the addition of whipped cream to the filling. It also helps to keep the sweetness in check.
Having said that, the dessert is completed with a light dusting of icing sugar ensuring the sugar-free choux pastry top tastes just a little sweeter.
So why did it take me that long to make it? Well, because I thought it was going to be complex and hard and it was everything but. But with only 9 ingredients, it couldn't be simpler. All up, it took less than 20 minutes to make. Except, of course, of the 25 minutes of baking and a further 20 or so of cooling the baked pastry sheet and custard in between… A piece of cake, really!
It's the perfect dessert treat
It really is the perfect dessert to whip up and take over while visiting friends who just had a baby. I cooked it, layered it, played with the styling a little… Enjoying a couple of the "rough edges" I had previously cut off – one of the perks of being the "chef". We packed the slice tightly in a hessian bag along with the baby's gift and set off.
As I was reversing out of the driveway, I watched the bag flop to the side. In the blink of an eye, the slice was strewn across the floor mat of my car!!! Aaaarggghhh! Well, half of it was. Aaaarggghhh! Or something close to a third more like it (Aaaarggghhh!). Sad face.
I was not happy. I yelled at the stupid bag for falling over and expected it to understand! Four of the pieces were snuggling into the safety of the longer edge of the tin. So, luckily, in the end everyone got a piece. Well, everyone except for the little baby girl. She was asleep and very beautiful as we enjoyed a square of Karpatka custard slice with our afternoon cup of tea.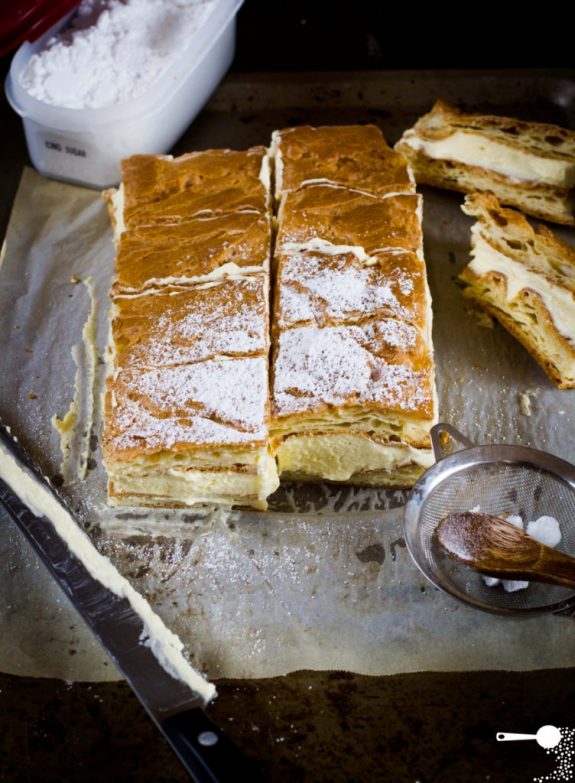 Karpatka: Polish Vanilla Custard Slice
The Polish recipe calls for budyn, a powdered custard which might be tricky to find outside of Poland, so I used thick pouring custard instead. You can bake the pastry form-free or if you happen to have a 30cm x 20cm cake tin, use that. You can work with the dough ball while still warm, for flaky pastry, allow the dough ball to cool completely to room temperature before adding eggs. This will help create the layers.
Ingredients
For the choux pastry:
125

g

unsalted butter

extra for greasing

1

cup

plain flour

1

cup

water

5

eggs
For the vanilla custard cream:
750

ml

thick pouring vanilla custard

2

eggs

2

tbsp

vanilla extract

4

tbsp

plain flour

2

tbsp

cornflour

300

ml

thickened cream
Instructions
To make the choux pastry:
In a medium saucepan bring water and butter to a boil.

Add flour and mix vigorously with a wooden spoon until the mixture comes away from the sides and forms a ball. This should only take a few seconds.

You can work with the dough ball while still warm, for flaky pastry, allow the dough ball to cool completely to room temperature before adding eggs. This will help create the layers.

Transfer dough to a mixing bowl, add eggs one at a time and beat with an electric mixer until glossy and smooth.
To bake the choux pastry:
Preheat oven to 200C. Grease a large sheet of non-stick baking paper with extra butter.

Spread pastry into a rough rectangle until the dough is only a couple of centimeters thick. Dip a spoon or spatula in some warm water to stop it from sticking to the dough when spreading.

Place in the oven and bake for 25 minutes.

When ready, remove from the oven and allow to cool on the tray placed on a wire rack.

In the meantime, make the vanilla custard cream:

Place cream into a mixing bowl and whip with an electric mixer until it's fairly stiff - be careful not to overwork as it will turn into butter.

In a large saucepan, combine custard, eggs, flours and vanilla extract. Whisk until smooth.

Place over low heat and cook, whisking, until the custard thoickens.

Cool to room tempereature, whisking from time to time to prevent the skin from forming.

Add whipped cream to the mixture and whisk through.
To layer vanilla custard slice:
Using a sharp bread knife, cut the pastry in half, the two sides will be yor top and bottom.

Spread custard cream over one layer, leaving a 2cm edge around and top with another pressing down gently.

Trim edges if you want to get perfect squares. Otherwise skip this step if you prefer a more rustic look.
To serve:
Using a sharp bread knife, cut the slice into 8 even squares. Dust with a little icing sugar and serve.
Notes
Tip: store the slice in the fridge and consume within 2 days. Bring to room temperature before serving. You may need to re-dust with some icing sugar.