Merry Christmas Wholesome Cook readers! Here is a little gift from me and the fabulous folks over at Eat Your Books. Enter now to WIN an Eat Your Books Lifetime Membership PLUS get a sneak peek at my new e-cookbook, Guilt-Free Desserts, due out in February 2013! If you are a cookbook collector and recipe lover like me, you will love this giveaway!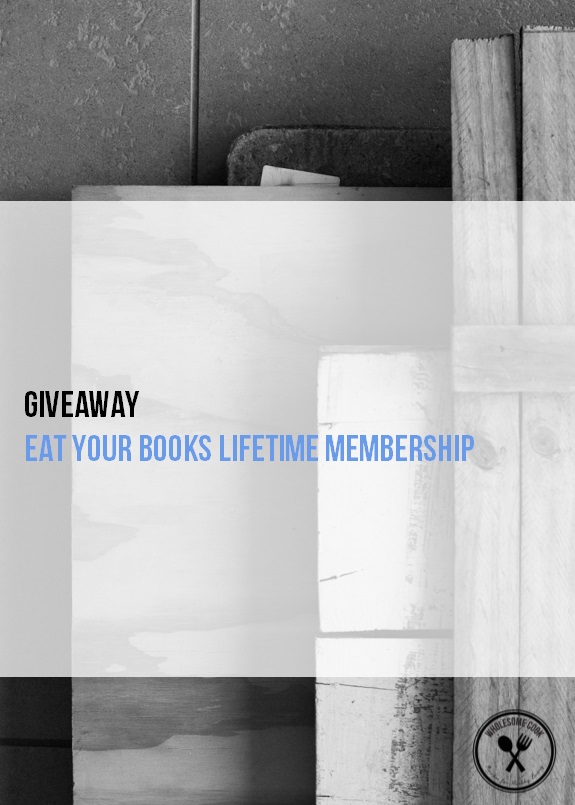 Eat Your Books is an electronic bookmarking service where you can create your own virtual bookshelf, add all your titles to it and never miss a recipe again. Once set up – and this only takes minutes, simply enter whatever recipe your looking for and the database will give you a list of all the recipes that match the search criteria contained in all of your cookbooks and mags! More titles are being indexed everyday, including my first e-cookbook My Whole Food Philosophy. You can also view my bookshelf here.

The service is quite affordable for serious recipe lovers, starting with no fee for upto 5 cookbooks and unlimited titles at $2.50 a month or $25 a year. And thanks to the generous people behind Eat Your Books I am giving away a Lifetime Membership to the Eat Your Books service. See end of post on how to enter via Rafflecopter.
Many blogs are also listed and there is also an option to add your personal recipes or bookmark recipes found online, so you can search them too once added to your shelf. How great is that?!!!
My New Cookbook – Guilt Free Desserts – Coming Feb 2013
Covering over 30 vegan, gluten-free and processed sugar-free desserts this new e-book is an essential addition to every health conscious sweet tooth's library.

Guest recipes will include delicious creations from such well-known bloggers as Masterchef Host and I Quit Sugar author Sarah Wilson, as well as 6 of my other favourite wholefood bloggers: Dreena Burton, Jen Jenner, Jo Whitton, Sherilyn Palmer, Sylvie Shirazi and Melissa Ambrosini.

Want it? Subscribe here to my regular FREE email recipe and giveaway updates and you will automatically save 30% off my first e-book, 'My Whole Food Philosophy'. PLUS receive a special members-only launch offer on Guilt Free Desserts when it it is released. Note: If you are already a subscriber just stay signed up (email me for your 30% off MWFP discount code if you'd like one). 

Affiliate Program: Stay tuned for details of GFD Affiliate Program. In the meantine, you can sign up to earn 20% from your own 'My Whole Food Philosophy' affiliate sales.
EAT YOUR BOOKS Lifetime membership giveaway (CLOSED)
Last night Mr Chipconnoisseur's Mum and Dad surprised me with one of the most special gifts I could have wished for: a host of Polish traditions was incorporated into our Christmas Eve dinner. We had straw under the tablecloth to symbolise the manger, there was an extra chair for the weary traveller who might turn up needing a place to stay for the night and, this was my favourite part, the breaking of the bread with blessings. It was so sweet I cried…
Speaking of sweet and special – I'd love to hear from you about your favourite special moment this Christmas OR learn what your favourite sweet dessert is. So, to enter the giveaway, you MUST:
leave a comment on this post telling me EITHER: What was your favourite special moment this Christmas? OR: What is your favourite sweet dessert?
register your entries via Rafflecopter widget or link below;
either Follow @eatyourbooks on Twitter or Like Eat Your Books on Facebook
UPDATE: And the winner is… Robin F! Congratulations! I will be in touch soon to deliver the prize to you!
a Rafflecopter giveaway

Ts & Cs: This giveaway is open Worldwide. Competition opens 10am Sydney Time on 25 December 2012. Closes 11:59pm Sydney Time on 5 January 2012. Winner will be announced on 6 January in this post and notified by email – response will be required within 48 hours, otherwise there will be a redraw. Bonus entries available as per the Rafflecopter table below.