Chestnuts are absolutely gorgeous roasted and simply enjoyed on their own, but they also lend their creamy, sweet flavour well to soups, sauces and stews.  Even desserts. 
I cannot even begin to tell you ho much has happened in the last week. Zac was admitted to hospital with a suspected appendicitis, poor little fella. In a midst all of the pain, he was petrified we would cancel our overseas trip, which we had managed to move back by a week. I spent over 360 minutes on the phone in less than six days. Slept little. Matt was already in the US for work and slept little too. We both worried lots, around the clock because of the time difference, but have managed to stay sane. Just.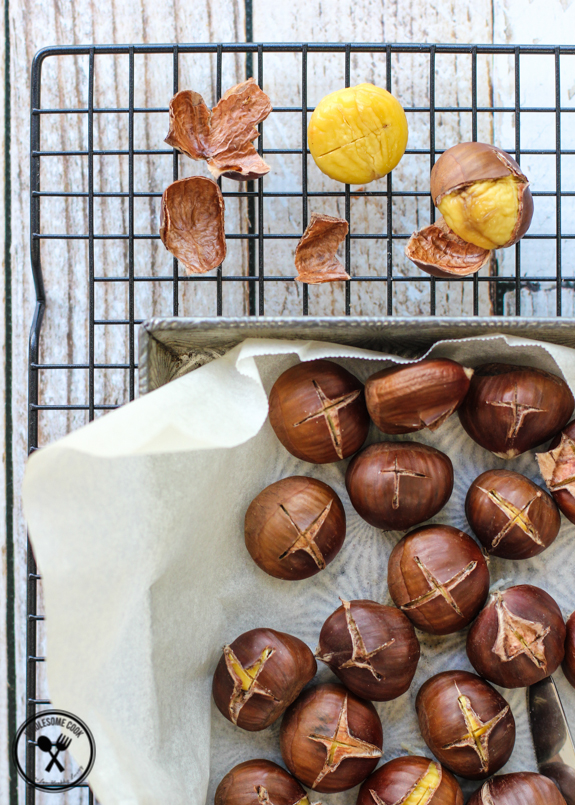 When we finally emerged out of the hospital on Friday, I popped around to the local grocer to stock up the fridge with nourishing, healing foods.  I made a big pot of chicken and veg soup with added gelatin to promote tissue healing, and fennel cabbage and carrot stir fry to calm inflammation. I stocked up on bananas and flax seed for morning smoothies – both can help promote bowel movement following extended periods on pain relief.
That's also when I spotted this season's chestnuts.
Roasted chestnuts are something of a comfort food for me, and boy did I need comfort at the end of that week. To turn them into something a little more special and even more comforting, I made myself a bowl of this creamy chestnut and mushroom soup. Flavoured with nothing more than a few sprigs of fresh thyme and pepper. A warm hug in a bowl.
By the end of our hospital stay, Zac was keen on my cooking too. The very limited choices of "Canned Spaghetti", white bread and margarine or sugary cupcakes that the hospital had on offer, were not quite his thing. Most days I toted in my own little esky with meals too, because the cafe food wasn't much better – some chips with your pizza, m'am? Odd isn't it, that a place that's supposed to help make us healthy can serve stuff like that?
If you are keen on trying chestnuts this season, here are 7 sweet and savoury chestnut recipes to try:
Chestnut and Mushroom Soup
Roasted chestnuts are a pleasure to eat on their own. Simply follow instructions in the first part of the recipe, but I wholeheartedly encourage you to try them in this comforting bowl or mushroom and chestnut soup. I love the lemony fragrance of the native lemon myrtle in this soup, but if you can't find Lemon Myrtle Macadamia Oil (I used Brookfarm), you can use lemon thyme instead.
Ingredients
300

g

fresh chestnuts

1

large brown onion

100

g

button mushrooms

2

tbsp

Lemon Myrtle Macadamia Oil or olive oil

5

single sprigs thyme

1/2

tsp

freshly ground black pepper

4

cups

vegetable stock
Instructions
To roast the chestnuts:
Preheat oven to 180C (160C fan forced, 350F, gas mark 4).

Using a sharp knife, score each chestnut shell with a cross pattern. Lay chestnuts in a single layer on a baking tray with the crosses facing up. Roast on the middle shelf for 15 minutes. Remove from the oven and wrap in a clean kitchen towel for the nuts to soften as they steam inside.
In the meantime prepare the soup:
Peel and finely dice onion. Slice mushrooms.

Heat oil in medium saucepan over medium heat. Add onion and cook, stirring for 3 minutes. Add mushrooms, thyme and pepper. Continue to cook, stirring for another 5 minutes or until the mushrooms and onion are wilted and beginning to caramelise.

Add stock and cook for 10 minutes. Turn off the heat.
To prepare the chestnuts:
Remove chestnuts from the tea towel and peel each by removing the har outer shell and the inner skin. Discard any chestnuts that may be affected by mould (it will most likley be a shade of green). You should have about 190g peeled chestnuts. Place chestnuts in a blender or jug if using a stick blender. Add 1 cup stock and puree until smooth.
To finish the soup:
Pour chestnut puree into the saucepan and mix well. Heat for a couple of minutes, if required, and serve warm.