Quite to the contrary, the spring flavours of this zucchini and asparagus tart are rather perfect. Not to mention the fact that the eggplant and garlic base doubles as a fantastic dip.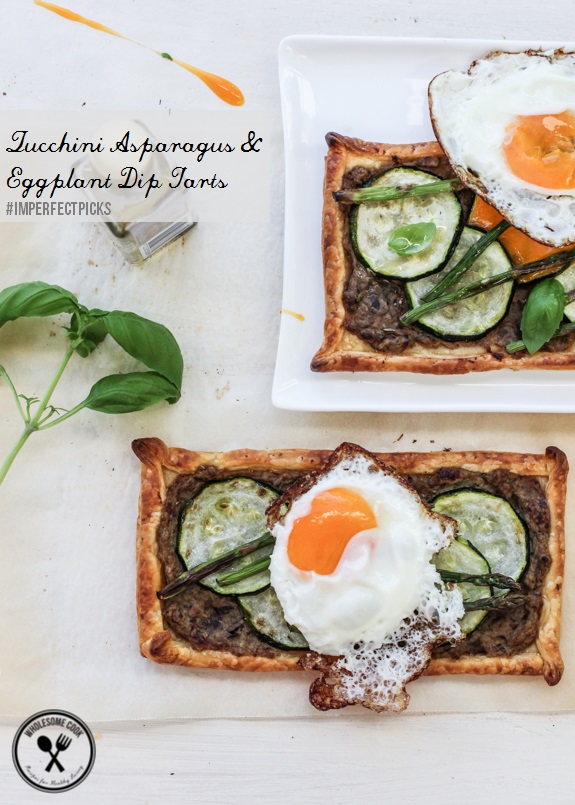 When it comes to spring flavours, you can't go wrong with new season locally grown produce. Some of which, I am proud to say, I managed to grow myself this year with a little help from Indira Naidoo's The Edible Balcony book – it's a treasure trove of tips for anyone wanting to try their hand at growing their own food and seasonal recipes to match.
At the beginning of winter I planted a few organic purple garlic cloves in the planter boxes outside and a few days ago it looked ripe for picking. As I peeled back the soft, thin layers of purply-white skin to reveal a handful of closes inside was very exciting. It is the first time ever I've grown garlic myself. The aroma that filled the air was mesmerizing.
So, you might ask, what's imperfect about the tart? Well, the imperfection here stems from the veggies themselves.
Inspired, no doubt, by the recent InterMarche Inglorious Fruit and Veg campaign in France, earlier this month Harris Farm Markets launched  their own #ImperfectPicks campaign. It helps reduce food waste, pays farmers for their imperfect but just as tasty crops otherwise destined for the heap and saves you money. Rescued fruit and veg is being sold at half price their perfect equivalent. 
How good is that?! 

Last week, I received a small sample of Imperfect Picks fruit and veg to experiment with. I used the unshapely pears for this lemongrass tea poached pear dessert (saving the skins and the liquid as a refreshing compote) and thought a spring veggie tart would be a great way to use the zucchini and eggplant. A nice change to my regular grilled zucchini with herbs number, too.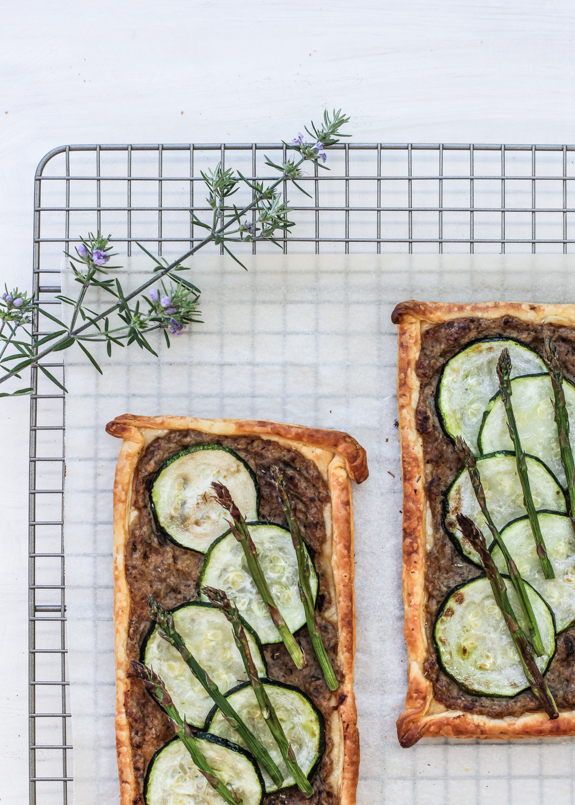 The tart itself is a rustic but posh at the same time, a different way to enjoy a weekend breakfast or weeknight dinner in fact.
Topped with new season Aussie asparagus spears and imperfect zucchini slices, it is dotted with pops of fresh basil straight from my garden. It is a feat because most of the time it's caterpillars that get to enjoy my herbs. You can serve it with crispy fried eggs and a drizzle of truffle oil, or for an extra kick, a dollop of Greek yoghurt and Harissa or chipotle chilli paste.
So, tell me dear reader, what have you got growing in your veggie garden? What's ready for harvest?
Are you planning on planting new things this year? 
Imperfect Zucchini, Asparagus and Eggplant Dip Tart
Ingredients
For the Eggplant Dip spread:
1

medium eggplant

6

cloves

garlic

3

tablespoons

macadamia or olive oil

a grind sea salt

1

teaspoon

black pepper

1

cup

water
For the Tart:
1

sheet puff pastry

2/3

cup

eggplant dip

see above

2

teaspoons

dried mixed herbs

1

zucchini

1

small bunch baby asparagus

1

sprig fresh basil
To top:
2

tablespoons

macadamia or olive oil

2

eggs

2

teaspoons

truffle oil

optional

other options: caramelised onion

prosciutto, yoghurt with Harissa paste
Instructions
To make the Eggplant Dip base:
Trim stalk end off the eggplant, discard, chop eggplant into 1 inch dice. Peel garlic cloves.

Heat oil in a large saucepan over medium heat. Add eggplant and cook, stirring for 5 or so minutes, or until the eggplant is lightly caramelised. Season with salt and pepper. Add water and cook for 15 minutes, stirring occasionally, or until the water has mostly evaporated and the eggplant is soft, Turn off the heat and add garlic, mix and allow to cool before processing till smooth.
To make the Tarts:
Place pastry on a cookie sheet lined with baking paper. Allow to thaw out before cutting in half. Trim about 1cm off each edge and fold onto the pastry to form a border around the tart. Poke the base around with a fork.

Spread about 1/3 cup of the eggplant dip onto each tart, staying within the borders. Sprinkle with

dried herbs. Finely slice zucchini and arrange rounds on top of the tarts. Trim woody ends off the asparagus, and arrange spears on top of the zucchini.

Bake in a preheated oven for 20 minutes or until the pastry edges are risen and golden.
In the meantime, prepare the toppings:
To crispy fry the eggs, heat oil in a large pan over medium heat for a minute. Crack in the eggs and cook for 5-6 minutes sunny side up until the whites are crisp on the bottom and set on top.
To serve:
Serve warm tarts with egg on top and drizzle with truffle oil, if using.