Whenever I feel like something sweet, I make a batch of these bite-sized raw protein fridge cookies to keep my sweet tooth satisfied – ready to eat in 7 minutes flat. Perfect as a little treat or pick-me-up.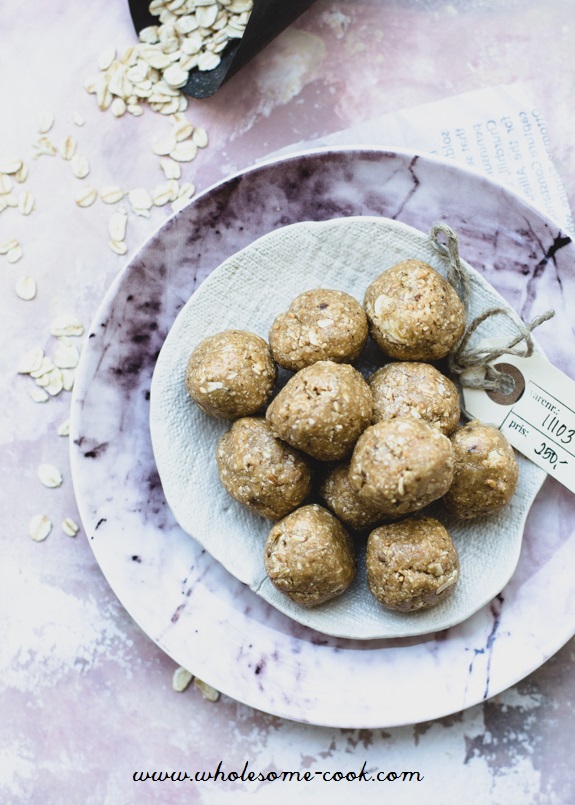 I've been burning the proverbial midnight oil of late.
Working on some final notes for my next book – oh my goodness, guys, I am so excited for this one and cannot wait to share more in a post soon. I should have the manuscript back from the editor within days now. Yay! I've also been trying to catch up on emails and process both my first cookbook and Mama.Fashion.Me orders. It's been such an exciting time!
I've been working late into the night because I find myself wanting to spend time with Mia during the day as much as I possibly can. Yesterday we went down to Balmoral Beach – it was a beautiful day and she had a ball playing in the sand for a couple of hours! I loved watching her having so much fun! She was so mesmerised by the novelty of it that she wasn't even interested in having her lunch – she's a BIIIIG 'hangry' foodie, so that's pretty funny.
Needless to say, sitting down at my desk for a few hours each evening has been quite a draining but productive time. She's a good night sleeper which helps a tonne!
To be honest, these Oaty Peanut Butter & Protein Fridge Cookies come in quite handy when I need a lil pick me up at 10pm or when my sweet tooth calls for a little indulgence. You can blitz them up in a small food processor in about 5 minutes and keep in the fridge for 7 days (I bet they will be gone before then). Feel free to freeze a batch too, they become gobstopperish in that you just can't stop gnawing at them to get to the next layer, and then the next.
Yum – you ought to Pin them.
Oaty Peanut Butter and Protein Fridge Cookies
You can make these using oats or for a Coeliac-friendly version use quinoa flakes (adding 1/4 cup extra). Use raw honey or rice malt syrup for a fructose-friendly version. Make sure to stir your natural peanut butter well before measuring as with 100% nut butters, sometimes the runnier part with all the oils sits on top. If the mixture is too soft - it will harden in the fridge, add a little extra oats / quinoa flakes. For a dairy-free version sub butter for extra coconut oil. It should be like pay-doh, not crumbly. That's it, simple.
Ingredients
1.5

cups

rolled oats

see note above for a Coeliac-friendly version

25

g

coconut oil

20

g

butter

see note above for dairy-free version

80

g

all-natural 100% peanut butter

1

tablespoon

bee pollen

45

g

honey

or rice malt syrup

1/2

teaspoon

vanilla powder

2

tablespoons

protein powder of your choice
Instructions
Place all ingredients in a small bowl of a food processor and process until the mixture resembles play-doh in consistency.

Scoop up about a tablespoon of the mixture and roll into a ball. Repeat with remaining mixture.

Enjoy soft, or chill in the freezer for 30 minutes before trabsfering to the fridge. Store in an airtight container in the fridge for up to 5 days or freezer for 6 months (ha, if you can last that long).
Notes
Options: gluten-free, dairy-free, vegan, fructose-friendly.