When I told Mum about this recipe she got very excited, even though she doesn't usually eat meat. And despite not being big on chicken or mushrooms, everyone here enjoyed them as well, even the little people!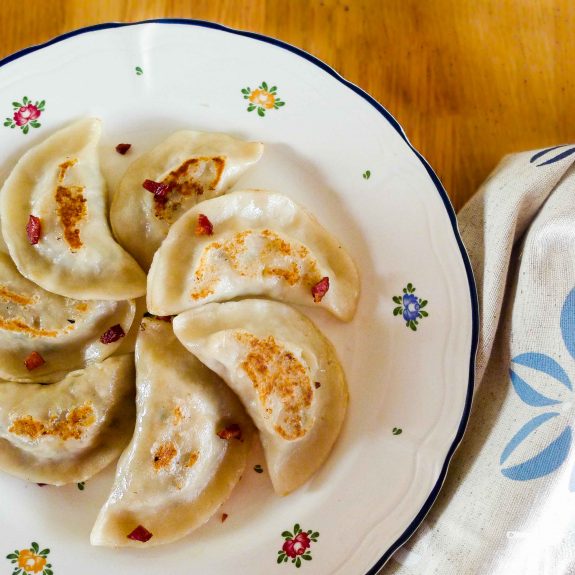 It's Autumn in the Northern hemisphere and that means only one thing: wild mushroom season! My Mum lives for those months when she gets to spend the whole day in the serenity of a forest, foraging for mushrooms, acorns and wild blue and alpine berries. I think I once dubbed her the 'Forest Lady'. She didn't mind.
Anyway when she started telling me about the bumper chanterelle crop this year, I was on a mission to find some in Sydney. I've seen them at David Jones in previous years, but this year I came across a plentiful supply at the Double Bay organic food markets. They are not cheap, $14 per 100g but that gives you a quite a large handful, just enough to saute in butter with some garlic and parsley and serve with grilled chicken or steak, or to lend a gorgeous sweet earthy flavour to these lovely chicken and goat's cheese dumplings.
Makes 24 dumplings
Dumplings: herbed chanterelles, goat's cheese and chicken
You could use wonton wrappers for the dough, but I find they often contain a preservative so I like to make this quick hot water flour dough from scratch – see 5 ingredient blueberry dumplings. Use a 7.5 cm (3in) cookie cutter or a wine glass to cut the circles out.
RELATED:  Gluten-free Dumpling Skin recipe features in  The Wholesome Cook cookbook.
For the stuffing:
100g chanterelles
120g goat's cheese
1/2 barbecue chicken, meat only
2 garlic cloves
1/2 bunch of fresh thyme, leaves only
2 tbsp oil of your choice
1 tsp black pepper
a pinch of salt
cooking oil spray
For the dough:
1¼ cups of plain flour + extra
½ cup hot water (not boiling)
OR 1 serving Gluten-free Dumpling Skin recipe featured in  The Wholesome Cook cookbook.
To make the stuffing: place the chicken meat into a food processor and process until minced and crumbly (or chop very finely with a knife). Sift through the chanterelles, removing any dirt, sticks and leaves. Chop them finely. Crush garlic.
Heat oil in a small frypan and add mushrooms, garlic and thyme leaves. Stir fry for 2 minutes or until fragrant. Remove from heat and set aside.
In a bowl, mix minced chicken, goat's cheese and fried chanterelles. If the mixture is too crumbly add a tablespoon of oil at a time until the mixture is just coming together but is not runny. Season with salt and pepper. Set aside.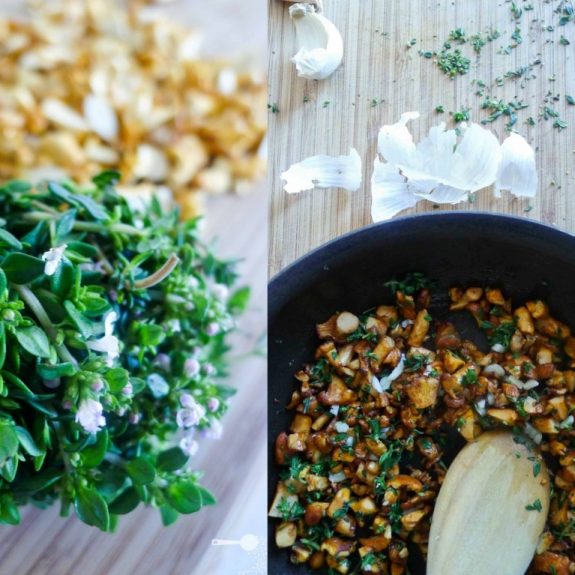 To make the dough: place flour into a bowl and add hot water. Mix with a spoon until the dough starts to come together. Knead for a few minutes, adding a little water if needed, until the dough is smooth and elastic. Place in a plastic bag and into the fridge for 5 minutes.
Remove dough from the fridge, knead for another minute then cut in half. Roll out to 3mm thick on a lightly floured surface. Cut out circles. Repeat with the remaining dough. You can re-roll the scraps if you like.
To make the dumplings: spoon a heaped teaspoon of chanterelle mixture into the middle of the dough rounds, brush edges with some water. Fold the round in half (looks like a taco) and pinch the edges together, ensuring the filling stays in the middle. Repeat with the remaining dumplings.
To boil the dumplings: bring a large pot of lightly salted water to a rapid boil. Drop 4-5 dumplings into the water, stirring first so that they don;t stick to the bottom. Cook for about 3 minutes. Remove with a slotted spoon and place on a platter sprayed with some cooking oil spray.
To serve: serve freshly cooked dumplings drizzled with some melted butter or fried bacon. Alternatively, and this is my favourite way to serve them, fry off the dumplings in some bacon fat on each side until lightly golden and serve with the drippings.