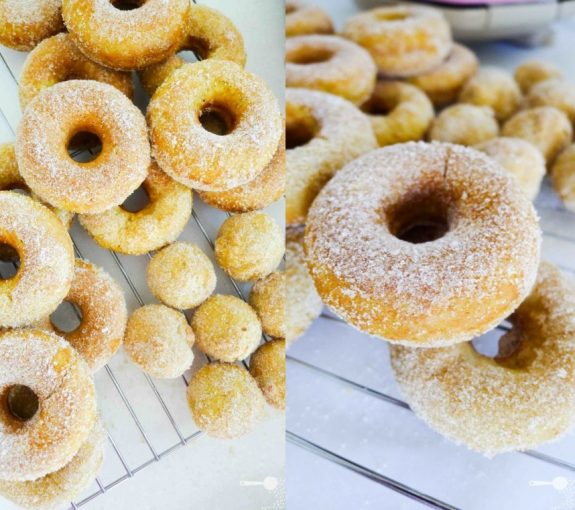 Catering for a large crowd, as I am doing tomorrow, is generally risky business because you are more likely to come across people with allergies, or those who abstain from certain foods. But at the same time, it is also a great opportunity to cook your heart out and make all those things you have always wanted to but you didn't because the yield was too high and you were scared of eating it all by yourself.
Cinnamon donuts are definitely in this tempting but dangerous category for me and for Mr Chipconnoisseur, who often complains there is no place in the CBD that sells hot off the press donuts.
So when it came to making hot cinnamon donuts – Mr Chipconnoisseur's favourites, and in my effort to satisfy everyone I decided to make them tripply good. Hot. Baked. Vegan and, only by accident pretty much fat free securing the following recipe a hattrick plus one in the goodness stakes.
I have found the perfect solution in the this recipe from a mostly vegan blog, Oh She Glows, and since I was unable to find a donut baking tray at one day's notice, I spent my $40 Myer gift voucher on the Sunbeam 'Sprinkles' doughnut iron.
Before you start turning up your noses at both choices, please hear me out. I know the recipe is vegan, but please do not let that discourage you. If anything, I have to say I have become intrigued by and strangely fond of many vegan recipes recently. Many of them, this one included, actually taste great and are often better for you. And they are so inventive, I love their own genius!
Secondly, while my juicer, meat mincer and a couple of other must have gadgets are now collecting dust somewhere in the garage, I am certain I will be using 'Sprinkles' again and often. Easy to clean, it makes 5 perfect donuts in minutes at a time without excess fat. I'm sure the kids will love making and decorating some themselves and we will all enjoy eating them.  I'm already thinking of some savoury donuts we could make with grated carrot, zucchini and so forth.
The donut iron is not going back in the box, instead it will reside right next to the jaffle press, for easy access anytime. And I hope everyone enjoys the donuts tomorrow. Alongside a few other refreshments I made for the event.
Makes 24 regular sized cinnamon donuts
Baked vegan cinnamon donuts
Adapted from Oh She Glows. I accidentally omitted the fat (melted non-dairy spread) but the donuts were still delicious and had great texture. I also baked 12 donut holes in the oven using a small muffin tray just to see how they turn out in the oven. If you don't like cinnamon, grate some citrus zest into the sugar and use that instead… Orange sugar donuts? Yum too.
Wet ingredients:
1 cup pumpkin, peeled // or canned pureed pumpkin
12 tbsp non-dairy milk
6 tbsp unsweetened applesauce
1 tsp white vinegar
Omit in a low fat version: 4 tbsp Nuttelex (or other non-dairy spread), melted
Dry ingredients:
1/2 cup white sugar
4 tbsp lightly packed brown sugar
4 tsp baking powder
1/2 tsp baking soda
1 tsp cinnamon
1/2 tsp ginger
1 tsp salt
2 cups plain flour
1 cup wholemeal flour
For dusting:
1/2 cup caster (superfine) sugar
1 tsp cinnamon
3 tbsp Nuttelex (or other non-dairy spread), melted
 paper towels
For oven baked: Preheat oven to 180C (160C fan forced 350F, gas mark 4). Grease your donut trays or a small muffin tray if making donut holes. Set aside.
For Sunbeam Sprinkles donut iron: plug the unit into power and allow to heat up until the light turns green to ready. Spray with some cooking oil spray before cooking each batch.
To prepare the pumpkin: if using fresh pumpkin, cut pumpkin into smaller chunks to speed up the cooking process. Cook in a little water for 10-15 minutes or until tender. Drain and mash with a potato masher or puree with e stick blender.
To make the batter: mix all wet ingredients in a large bowl (able to hold all the batter eventually). Mix all dry ingredients in another bowl. Pour in dry ingredients into the wet ones and stir with a wooden spoon until well combined.
To pipe the donuts: transfer the batter into a large zip-lock bag. Close the zip lock, releasing all the air and squeeze batter toward one of the bottom corners. Twist the empty end of the bag a couple of times and secure with a rubber band – voila, you have a nifty piping bag! Pipe into your moulds or into the bottom donut rounds in the iron.
For oven baked: bake for 10-12 minutes or until lightly golden and springing back to the touch. Remove from oven and cool in the tray for 5 minutes. Lift out of the tray and cool on a wire rack.
For Sunbeam Sprinkles donut iron: cook for 6-8 minutes or until lightly golden and springing back to the touch. Remove from iron and cool on a wire rack.
To dust with cinnamon: dip each donut into melted spread. Wipe excess fat with a paper towel and rub the same towel over the dry side of the donut. That should allow sufficient greasing for the cinnamon sugar to stick to. Transfer to your sugar bowl and toss around to cover.
Donuts will keep for 2-3 days in an airtight container.