The interesting thing about blogging seasonal or festival-related recipes is that, for the most part, they are only seasonal or festive for some of the readers. Take this 5 ingredient dish for example.
Here I am talking about how Autumn fruits are in season while there's snowfall in Canada, people are still wearing winter coats in New York and Europeans are a good few months away from having peak season apples and pears at their disposal. And I am pretty sure that PorkFest – the Festival of Pork that's running throughout April is only doing so here, on our Aussie shores.
Nevertheless, we are in Sydney where days are becoming shorter, mornings colder and the leaves begin to turn the most beautiful shades of yellow, orange and red – sure tell-tale signs that Autumn is in full swing. And just the other day I received the most wonderful package: a basketful of the freshest, most fragrant new season Aussie Pink Lady apples.
I'll be sure to cook with them as well, but for this particular recipe I actually prefer the tartness of Granny Smiths… a perfect season-inspired addition to the sweetness of pork with raspberry jam and pears I had in mind for dinner. The whole meal was ready in minutes and tasted sensational, a light and comforting interpretation of the seasonal produce, including the deliciousness of late Summer raspberries preserved for later enjoyment in a wonderful all natural jam.
As for seasonality and the other readers? Well, I guess that's what bookmarking is for… And I say it in the most polite ways of all,  because the same is true on the flip side; when we are busy shivering in our ugg boots June through August, our blogging friends from the North are dishing up delectable granitas and cocktails because "baby, it's hot outside".
Serves 2
Pork medallions with Autumn fruits
There are so many apple varieties to choose from for this dish, but to balance out the sweet flavour of pear I decided to go with a slightly more acidic Granny Smith apple. Anathoth's amazing all-natural raspberry jam became the instant sauce for the sensational free range Aussie pork, because it has the perfect consistency free of pectin or other gelling agents. If using other jam, you may need to heat it up with a tablespoon of water. Prepare pork, then your fruit side.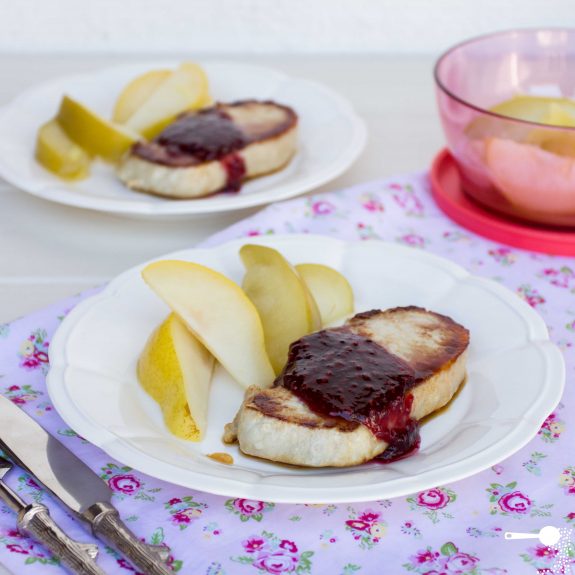 For the pork medallions with jam:
2 free range pork medallions (about 2cm thick)
2 tbsp Anathoth raspberry jam
For the poached Autumn fruits:
1 Granny Smith apple, cut into quarters, core removed
1 William Bartlett pear, cut into quarters, core removed
1/4 cup cider
(optional: 2 sliced of ginger, julienned)
To make the pork: cook medallions in a frypan over medium heat for about 6 minutes, and until lightly browned, on each side.
To make the poached Autumn fruits: place apple and pear quarters (and ginger) into a small saucepan. Add cider and bring to a boil. Turn off heat and allow fruits to poach until the pork is cooked.
To serve: serve pork medallions with a side of the poached fruit and a generous topping of the jam. Season with pepper if you wish.