This simple Coconut Vanilla Custard is delicious, low in sugar and easily customisable for dairy, egg and gluten intolerances. It also makes a perfect base for naturally flavoured strawberry and chocolate custard versions.
Just the other day I received an email from S, Mr Chipconnoisseur's older sister, asking for help with some allergy-friendly recipes as she had recently been diagnosed with a bunch of intolerances. Hi S *waves*
Now "a bunch" is probably an understatement as she basically can no longer have wheat, gluten, dairy, almonds, eggs, soy, legumes, yeast and peanuts. When I looked at the list, most of the substitutes I had in mind went straight out the window. Silken tofu could no longer be used in place of eggs because it's made from soy, most flourless cakes required almond meal, and even my favourite vegan chocolate contains carob, which believe it or not is a legume!
As I needed to make custard for another recipe I was working on, I decided to put myself in S's shoes and give it a go without using dairy, or eggs, or wheat (some corn flours are wheaten!), or soy. Almond milk was out too.
And so, I made a coconut cream and egg version for us, then an experimental non-egg, non-dairy etc version for S. The result was surprisingly good! The egg version obviously had a richer taste and colour from the yolks but, if faced with the prospect of do or die, I would be happy to have a bowl of the egg-less custard any day. If you are used to the yellowy colour of custard, add a tablespoon or so of carrot juice to the coconut milk. And try to use coconut milk with fewest ingredients that does not contain any 'numbers'.
Oh and have fun with some flavours too… Vanilla is obviously the base, but why not try chocolate by adding some cocoa or strawberry purée for a fruity version instead.
So, dear reader, what would be the first food you'd try to make if one day you found out you have developed an intolerance to basically all the foods you've grown to love?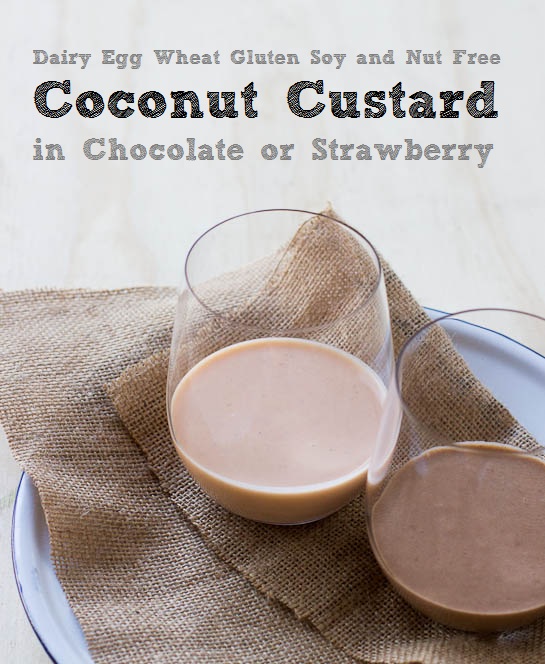 Coconut Custard in Three Tasty Flavours (Dairy Gluten and Egg Free)
This is a pouring consistency custard. For an egg-free version, use 1 teaspoon of (wheat-free) corn flour for each egg yolk. If you are used to the yellowy colour of custard, add a tablespoon or so of carrot juice to the coconut cream.
Ingredients
For the Vanilla Coconut Custard:
1/4

cup

water

1

tbsp

xylitol or 1-2 tablespoons unrefined sugar

1

cup

coconut milk

mixed well

3

tsp

egg yolks or 3 tsp corn flour for egg-free version

1

tsp

vanilla bean extract

2

tbsp

corn flour
Instructions
To make the Vanilla Coconut Custard:
Place water and xylitol (or sugar) in a medium saucepan over medium heat. Allow the sugar to dissolve and boil the mixture for about 2 minutes.

In a bowl or jug, whisk together coconut milk, vanilla bean extract, egg yolks and corn flour, making sure there are no lumps.

Remove suacepan from heat and pour coconut milk mixture. Place back on the heat, and keep whisking slowly until the mixture thickens and just comes up to the boil.

Remove from heat and allow to cool a little before transferring to your serving dishes.
For flavoured versions:
Once the custard is cooked and slightly cooled, add cocoa powder or strawberry puree and whisk to blend the flavour through. Divide between serving dishes and chill.
Subscribe to receive Recipes to your Inbox: