Speaking of ice cream… this might be the best homemade Rum and Raisin ice cream I've ever had – made with 5 simple ingredients. Perfect indulgence for the festive season or any other time, really.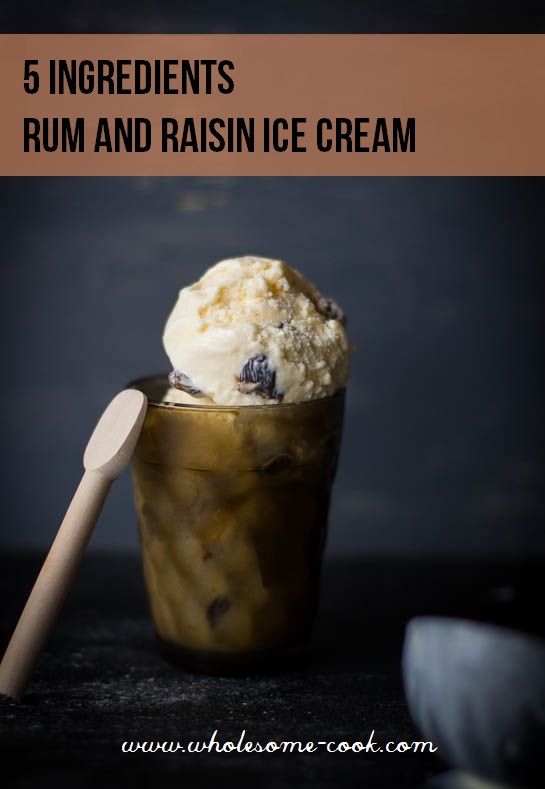 When I first came to Australia I was surprised about how expensive scoop ice cream was here! $4.95 for a scoop seemed exorbitant and the argument that you were getting value for money didn't fly with me either. Why would I want to taste just one flavour? With Aussie scoops the size of a pint it just didn't make sense…
The ice-cream itself in Poland was different too. More like the Italian gelato, made with real milk – not powdered, and sweetened ever so lightly to let the flavours really shine through.
Growing up, I was fortunate enough to have access to one of our family friend's patisseries where one of the best sellers was their home-churned ice-cream. It was ice cold and not at all gluggy or chewy as some of the commercially made ice-cream can be. 
I soon developed a taste for a variety of flavours with the slightly grown up concoction of rum and raisin becoming one of my favourites. I remember having a medley of four to five scoops per serving, but at $1 per ping pong ball-sized scoop that made sense.
Dad and I would often race to see who could finish theirs first. 
For more healthy living inspiration, including no added sugar wholefood ice creams, check out my debut cookbook, The Wholesome Cook, featuring 180 refined sugar-free recipes all with gluten-free options. Plus detailed additive-free shopping guides, wholefood kitchen tips and my take on sugar, fat, gluten and legumes, soy and dairy. 
Now that I have my own ice cream maker,  I've taken on the challenge and recreated the Rum'n Raisin ice-cream the way I remember. Cold and aromatic with a distinct milky flavour and those gorgeous, plump and juicy fruits.
And, just like before, I can't stop at only one scoop… Happy first day of summer indeed.
5 Ingredients: Rum and Raisin Ice-Cream
This might be the best homemade Rum and Raisin ice cream you will ever have - made with 5 simple ingredients. Pre-freezing of bowl required, plus extra 2 hours freezing time once the ice-cream is churned. Makes about 0.9L / 1.5 pints. ***As featured in THE WHOLESOME COOK cookbook.***
Ingredients
3/4

cup

raisins

1/4

cup

dark sweet rum

(I used Bundaberg rum)

2

cups

full cream milk

1

cup

thickened cream

1/4

cup

maple syrup
Instructions
Freeze your ice-cream maker bowl for at least 12 hours, or as indicated by manufacturer's instructions.

Place raisins and dark sweet rum in a small saucepan and bring to a boil over low heat. Take off the heat, transfer to a small bowl and allow to cool.

In a large bowl whisk together milk, thickened cream and maple syrup until blended.

Pour mixture into your ice-cream maker and churn for 20 minutes. Add cooled rum and raisins,. Churn for another 10 minutes or until the mixture is thick and resembles soft-serve ice-cream.

Transfer to a freezer-safe dish, cover and freeze for at least 2 hours.

Thaw out for 5 minutes before serving.
7WKCU5R6244C