A trendy twist on tradition, these Quinoa Sushi Rolls make for a great tasty snack or even a healthy packed lunch option. Fill with your favourite sushi fillings – three of my favourite filling suggestions below.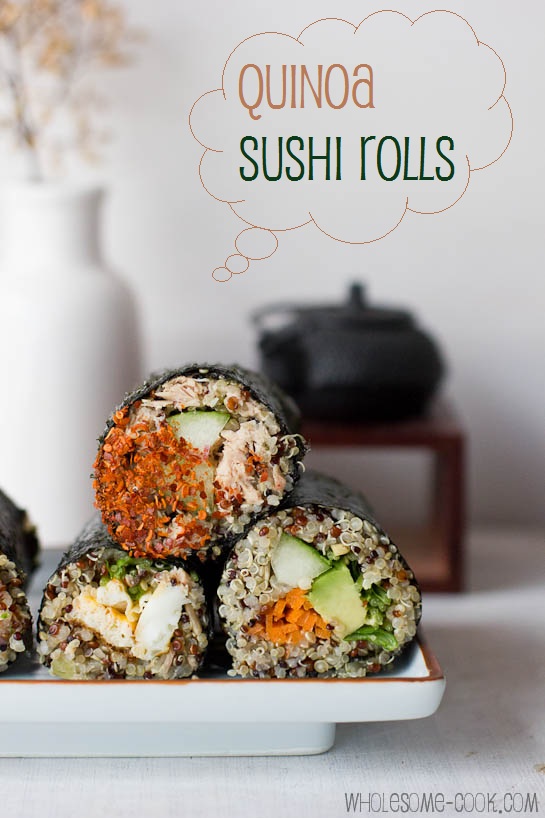 Why didn't I think of this myself??
I mean this quinoa sushi would have been right up my alley. You know, inventive and quirky. Nevertheless, the credit is not mine to take.
It's Donna Hay's actually. As part of the winning EDB3 photography contest prize pack I received a collection of 10 new cookbooks thanks to the generous sponsorship by Harper Collins publishers. Amongst their many fabulous titles – can't wait to cook from Rachel Allen's Cake and read Nigel Slater's latest Kitchen Diaries II tome by the way, I found Donna Hay's new Fresh and Light and got flicking.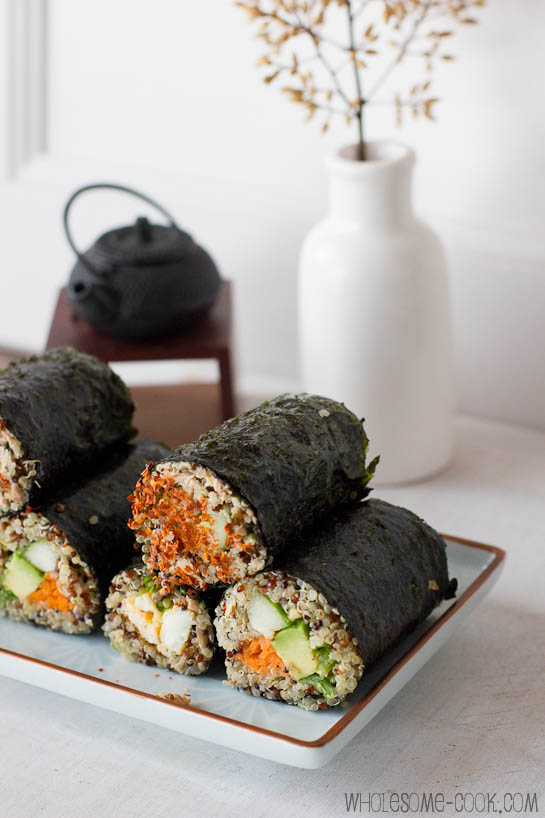 Now, Donna Hay needs little introduction. She is Australia's queen of sophisticated yet simple style in both her recipes and food styling. Both her bi-monthly magazine and cookbooks are selling better than hot cakes.
A few years back, before I even began blogging, I had the pleasure of attending an intimate dinner event for the launch of her No Time to Cook cookbook. It was a once in a lifetime opportunity to take a sneak peek at where all the action happens – Donna's Surry Hills studio and taste kitchen. I was mesmerised by the amount of cute, vintage props and food styling paraphernalia and, of course, Donna's simple approach to making food taste good. I was hooked and have been collecting her cookbooks ever since!
Some say that since she's not a trained chef she should not be categorized as such, but hey, if she can teach an average home cook about preparing fresh, tasty food why should we judge? Her passion and experience are just as good, in my books, as any piece of paper. And the food looks good too!
Since I've been wanting to introduce the kids to sushi, discovering this quinoa sushi roll recipe was the perfect opportunity to try. They loved it! The quinoa which they already adore and crunchy fresh veggies made up for the "green seaweed skin". Perhaps I omitted the word seaweed, but nevertheless they liked it and so did I.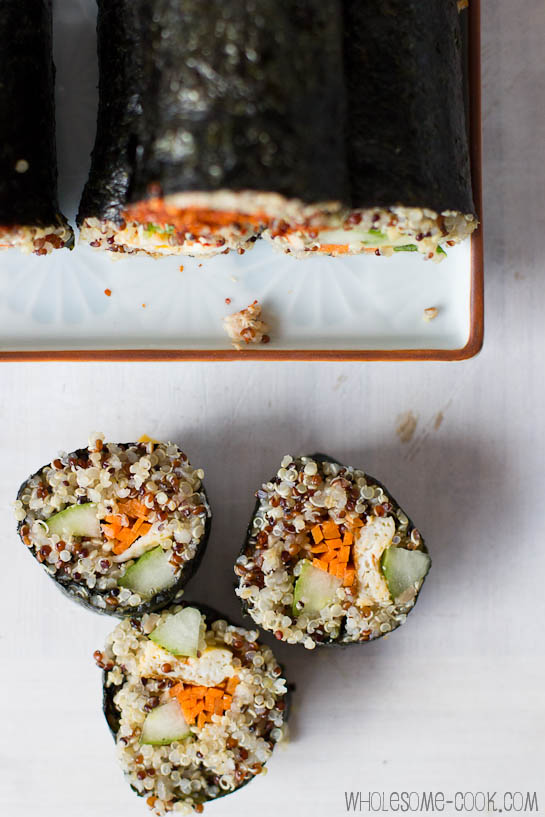 The following recipe has been adapted from Donna Hay's Fresh and Light cookbook. I have played with my own fillings and have omitted sugar and mirin from the quinoa base – if you don't cook much Japanese food, mirin could be a wasteful purchase. I've also added some almonds and seeds to the mix!
For more Quinoa Inspirations check out my top 5 picks:
Quinoa and Pea Spice Croquettes by Sneh Roy
Quinoa Stuffing by Marla Meridith
Quinoa Payasam by Reshmi Mahesh
Smoked Trout Quinoa and Pumpkin Salad by John Bek
Raw Edible Quinoa Cookie Dough by me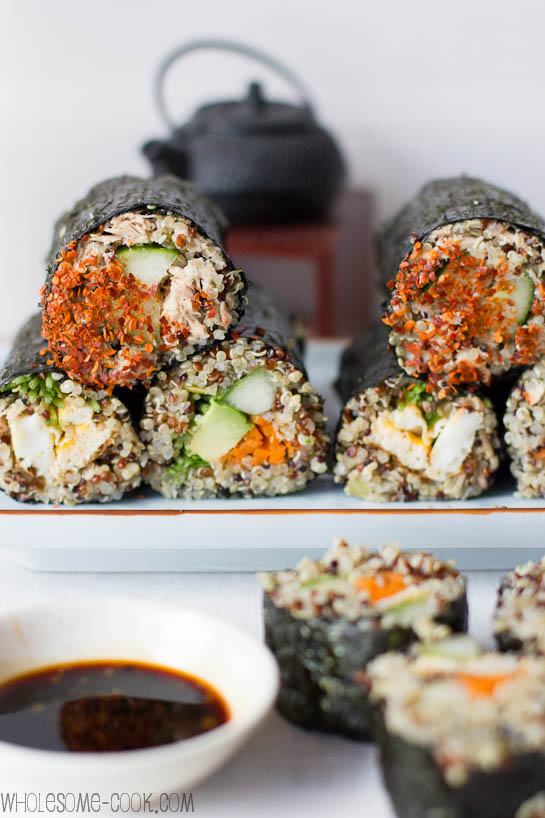 Quinoa Sushi Rolls plus 5 Other Cool Quinoa Recipes
I've used tricolour quinoa in this recipe just because it adds a little colour to the mix, but you could use white or red. Makes 4 six-inch sushi rolls. Fillings listed will make 1 roll each.
Ingredients
For the Quinoa Sushi Rolls:
1

cup

tricolor quinoa grains

2

cups

vegetable stock

2

tbsp

almond sunflower and pepita mix

chopped roughly

4

sheets toasted nori

Plus fillings of choice
Spicy Tuna filling:
95

g

(1 can) tuna in olive oil or brine, drained

1

tbsp

mayonaise

pinch

ground chilli

1

cucumber sliced lengthways into eights

1/4

avocado

sliced into strips

ground chilli

to serve
Vegetable Salad filling
1

cucumber sliced lengthways into eights

1/2

carrot

grated lengthways on a mandolin or using a potato peeler

1/4

avocado

sliced into strips

a few snow pea sprouts
Sriracha Egg Omelette filling:
2

eggs

1

tbsp

ice cold water

1

tbsp

Sriracha

a few snow pea sprouts
Instructions
To Cook Quinoa:
Place quinoa into a sieve and rinse well under cold water for a minute to remove excess saponins (which are hard to digest).

Transfer quinoa into a saucepan, add 2 cups of vegetable stock and place over medium heat. Bring to a boil then reduce to a simmer and cook for about 15 minutes, stirring from time to time, or until tender.

Place cooked quinoa in a bowl and allow to cool slightly.

Add chopped almonds, sunflower seeds and pepitas and mix well.

When cool enough to handle make the rolls.
For the Spicy Tuna Filling:
Mix together tuna, mayonaise and chilli. Reserve cucumber and avocado for assembly.
For the Vegetable Salad filling:
Reserve all vegetables for assembly
For the Sriracha Egg Omelette filling:
Heat a teaspoon of oil in a small pan over medium heat.

Whisk together the eggs and cold water. Pour egg mixture into the pan and cook for 3 minutes. Reduce heat to low.

Drizzle Sriracha over the omellette and cover pan with a lid. Cook for another 2 minutes or until the eggs are set.

Remove from pan and cut into 1cm /0.5in strips.
To make the Quinoa Sushi Rolls:
Place a nori sheet on a bench (or a bamboo sushi mat, if using).

Spread quarter of the quinoa mix on half of the nori sheet, working from the edge closest to you and right to the sides.

Layer your favourite toppings across the middle of the quinoa and lighting the edge closest to you, begin to tighly wrap the rolls all the way to the end.
To serve the Quinoa Sushi Rolls:
Trim ends with a sharp (bread) knife, then cut in half. Dip tuna rolls in some of the extra ground chilli. Serve rolls whole with a side of a soy or tamari (gluten-free) sauce or cut the halves into 3-4 sushi rounds.