A Spanish tapa-inspired take on the classic tender marinated octopus. It can be served alone or on toast. And if you don't fancy octopus, this dish is also great with cooked prawns or cooked chorizo.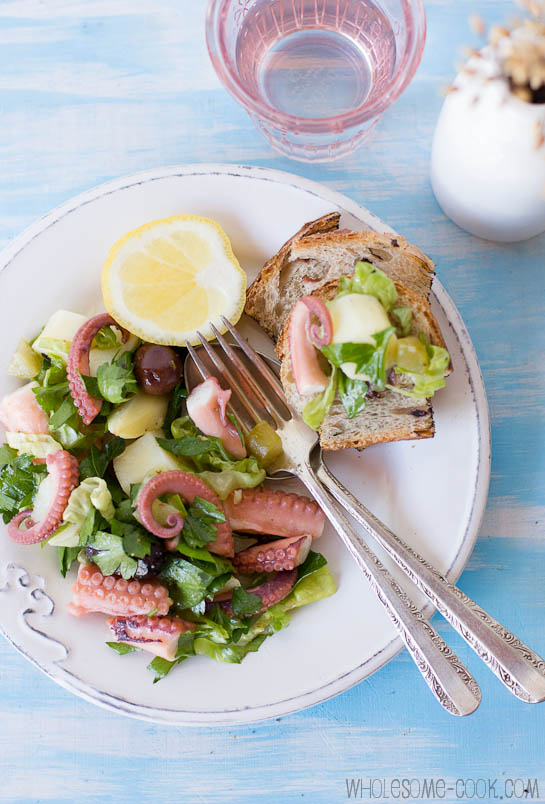 ¡Hola from Spain! During our short visit to San Sebastian in the Basque Country (Northern Spain) we were spoilt with the regions' culinary offering, ranging from visits to countless pintxos bars to meals at two of the world's top 10 restaurants.
Our lunch at Arzak was one of the best meals we've ever eaten. Juan Mari and his daughter Elena are masters of making classic comfort food dishes shine beyond imaginable. Think Bacon and Eggs on Toast or Fish and Chips kind of comfort but kicked up a few notches. Every dish is crafted with respect that the original deserves, and enough creative flare to make it special but not pompous. A visit to Arzak is one we would highly recommend.
As for the pintxos – Basque version of tapas for which this region is famous, there are plenty to choose from in the town's Old Quarter. From classic jamon croquetas, anchovies and chorizo, to more modern selection of ceviche, sea urchin and various incarnations of foie.
Tomorrow, after a short scenic drive to Rioja wine country and a stay at this amazing hotel, we head over to Barcelona to enjoy some Catalan sunshine, culture and food influenced by the Mediterranean climate. This is where I first tried this delicious marinated octopus salad a few years back. Served with or without anchovies – both black and white, it is a tasty tapa-style dish that goes well with a glass of chilled wine.
¡Salut!
Spanish Tapa-style Octopus Salad
Cooking note: the secret to a well cooked octopus lies in the cooking time itself. It either has to be flash fried for literally a minute or two, or poached for around an hour in order to achieve a soft, non-rubbery texture. While flash frying is great for baby octopus, poaching medium to large octopus is a much better choice. Serve with toasted bread of your choice. White anchovies are available from many delis and grocers - they are marinated in oil and vinegar much like rollmops.
Ingredients
For the marinated octopus:
300

g

medium raw octopus

cleaned

1

tbsp

vinegar

1/4

cup

light olive oil

2

tbsp

lemon juice

freshly ground black pepper to taste
To serve as Octopus Salad:
marinated octopus

prepared as above

1

medium cooked potato

chilled and diced

1

head baby cos lettuce

shredded

1

dill pickle

diced

1/8

cup

olives of choice

1

tsp

capers in brine

1-2

tbsp

chopped parsley

1-2

tbsp

chopped salted and white anchovies

optional, see note

1

tbsp

of the leftover oil

toasted bread of your choice

lemon wedges
Instructions
To make the octopus:
Cut the octopus into quarters, removing the head and beak (hard, shell-like bit from the middle near the head).

Bring a saucepan of water and a tablespoon of vinegar to a boil and drop in the tentacles and head. Bring to a boil then lower to a gentle simmer and cook for 1-1.5 hours or until the tentacles are soft when pierced but not mushy. Drain and cool in an ice bath.

Peel off any of the slimy membranes – be careful not to remove too many of the suckers during this process, they look great and add texture to the dish.

Chop up roughly. Mix oil and lemon juice in a bowl and add octopus. Mix well and season with black pepper. Refrigerate until needed (up to 2 days).
To serve:
In a large bowl, mix together the octopus, diced potato, lettuce,diced pickle, olives, capers and anchovies, if using. Drizzle with oil. Transfer onto serving dish.

Serve with lightly toasted bread and lemon wedges.
Notes
dairy-free egg-free nut-free options: paleo gluten-free