Homemade Gummy Bear recipe in 4 whole food flavours: tasty, healthy and set in minutes!  PLUS 10 tips for how to make healthy gummy bears! They are the kind of lollies you won't mind your kids having.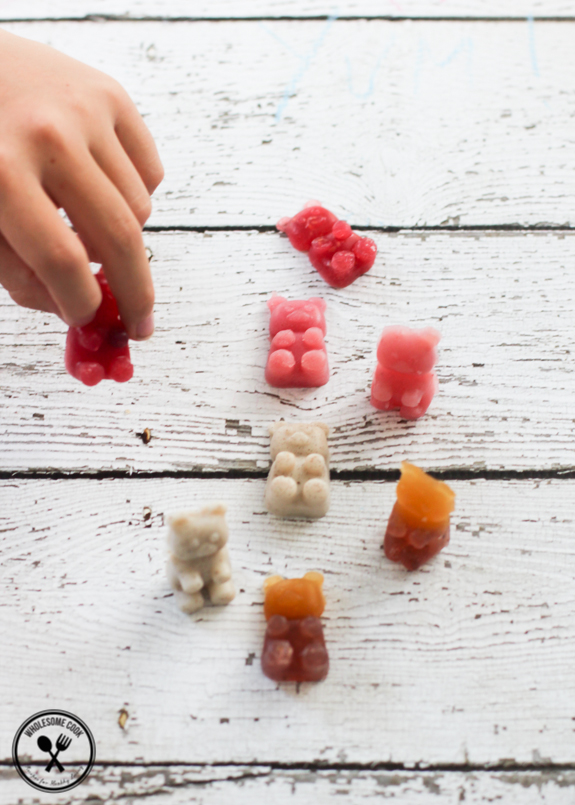 If you walked into our kitchen the weekend before last, you might have found yourself in the middle of a lolly making frenzy. Strawberry, mango and raspberry splotches covered the countertops. Set, some smudged and others just sitting pretty.
Excitement was brewing as the mixtures of whole fruit and gelatin warmed on the stove. No sugar in sight! We mixed and filled gummy shaped moulds with flavourful mixtures and great precision. We had four carefully picked flavours on the go at any one time.
The recipe comes from my debut cookbook.
Use gelatin for this healthy gummy bear recipe
Did you know that gelatin is a fantastic source of protein, promotes a healthy thyroid function? It is also great for joint-health, collagen production and gut healing.
Gelatin is recommended for people nursing broken bones, wounds and sprains. It is also said to suppress tumor growth and help maintain good liver health (source). I'm surprised it hasn't re-earnt its stripes as a superfood yet.
In testing the gummy bear recipe, we use either the Great Lakes grass-fed gelatin powder or Vital Proteins grass-fed beef gelatin powder – more on that in the tips. For a vegan option see notes below.
Add some probiotics
We also mixed in with Lifespace probiotics for gut health. This went especially well with the milky vanilla gummies. And, my oh my, were they something else! I give you some pointers in the tips below on how not to over-heat the probiotic powder jellies.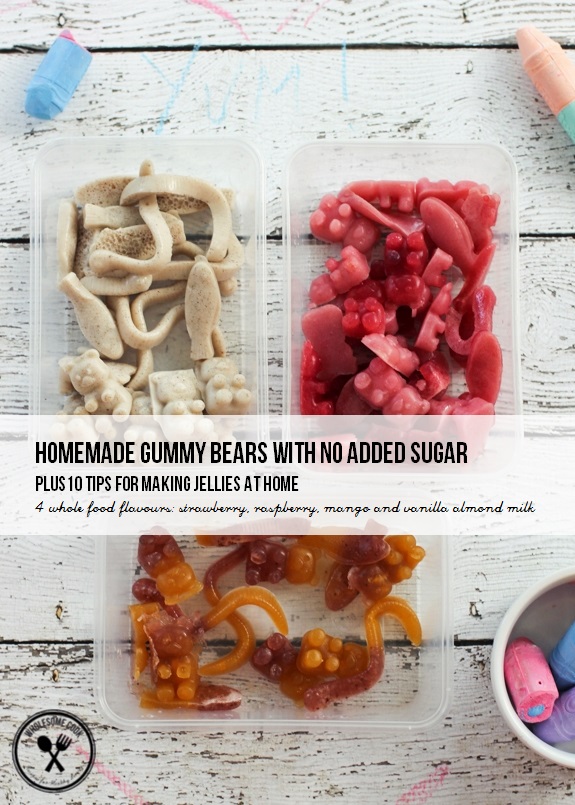 10 Tips for making Homemade Gummy Bears
We used both gelatin sheets and powder. The sheets were slightly easier to melt evenly, but they come in various sizes and even strengths so measuring them can get tricky. In the end we stuck with this grass-fed gelatin powder or this grass-fed gelatin powder, being the most natural gelatin source.
We also tried a few different ratios of gelatin to set them and found that 3 tablespoons of gelatin per cup renders the best result. Soft and chewy, but not as temperature sensitive as the 2 tablespoon mixture, nor was it as hard as the 4 tablespoon one. See notes below for a vegan version.
Non-acidic fruit is best for jelly making, otherwise jelly may not set (pineapple and kiwi fruit tend to be most problematic).
For best results puree room-temperature fruit using a stick blender. Allow frozen fruit puree to come to room temperature also. You can strain the seeds away (from berries) if you like, but we quite like the added texture.
Things you can add to the jellies are probiotic, protein or green powders, maca, cacao, mesquite, bee pollen, vitamins, fish oil. If adding probiotics, remember that they are heat-sensitive. Add these to slightly cooled liquid only or divide the liquid in half and heat only half of the content. This will also help preserve heat-sensitive vitamins into the gummy shapes.
Use a silicone mould. We used this Homemade Gummy kit which comes with four moulds: two gummy bear, one gummy snake and one gummy fish. They are fantastic! So easy to peel off and the container they sit in holds ice for faster cooling and setting. You can also just buy the moulds: gummy bear moulds, snakes / worms moulds and lego moulds.
To shorten the setting time, place silicone moulds in the fridge over a tray filled with ice.
Add Natvia for sweetness. About 1 tablespoon per cup should be fine, but bare in mind that some of the sweetness does disappear once the jellies are set.
Vanilla bean powder (I used Honest to Goodness brand) is great for flavouring strawberry or milk jellies. It may seem expensive but the powder is very flavourful. You'll only need around 1/4 teaspoon to add the luxurious vanilla aroma to 1 cup of jelly mix. Not to mention the signature black specs.
You can use any type of milk for milky layers or whole milk gummy shapes. My personal preference is for organic cow's or homemade almond milk. Aussie brand Pure Harvest make a great organic almond milk that contains nothing but filtered water, organic almonds and organic rice syrup. They also have oat and rice milk which are great for this too.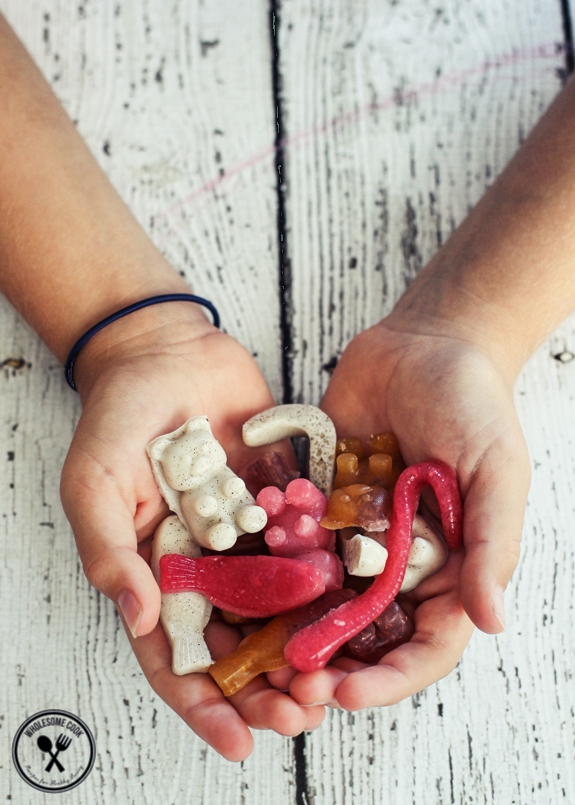 Vegan Gummy Bears
Agar agar powder is the most common substitute for gelatin in vegetarian and vegan jelly-making. To make Vegan Gummy Bears, add 1 1/2 teaspoons agar agar powder to 1 cup liquid. Unlike gelatin, you need to bring the agar mixture to a boil to set. So, if you are working with heat-sensitive ingredients like probiotics or vitamins, perhaps only boil half the liquid.
Unlike gelatin jellies, agar will not melt when stored out of the fridge which might makes it better for lunchbox treats.
The verdict?
Homemade Gummy Bears are a quick to make and a healthy substitute for store-bought lollies. They don't have the same stretch which comes from the sugar in regular jellies, but are fun to make and squishy enough for everyone to enjoy them.
The kids liked the fruity gummies the best. Liana's favourite was the strawberry mango duo, while I preferred the slightly more sour raspberry.
My all time favourite though was the airy vanilla almond milk jelly with the added benefit of dairy-free probiotics. Creamy, dreamy and delectable.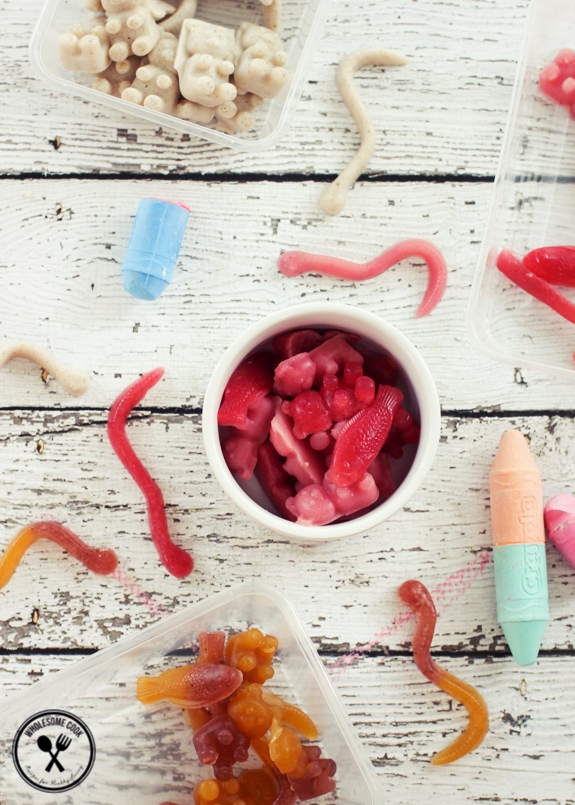 Homemade Gummy Bears with No Added Sugar
Fruit: berries of all sorts and mangoes provide the best results when making puree gummy bears at home. If using frozen fruit, ensure the puree is close to room temperature before mixing with warm gelatin. You can strain the puree to get rid of the seeds or leave them in, we quite like the texture. Liquid: you can use filtered water, coconut water or milk of your choice for the remaining liquid. For Milky version, use cow's milk or any other milk you like – we used Pure Harvest Organic Almond Milk – it really is like homemade. For a vegan version: use 3 tablespoons agar agar powder instead (available from most Asian supermarkets). Things you can add: probiotic powders, protein powders, green powders, maca, etc. Always add to the cool liquid to preserve nutritional value. Moulds: if you don't have fancy-shaped moulds, pour the liquid into a baking tin lined with baking paper. Allow to set then cut into squares with a knife.
Ingredients
For a Fruity Version:

1/2

cup

pureed fruit (strawberry, raspberry, blueberry or mango)

1/2

cup

liquid (filtered water, coconut water or milk of your choice)

1-2

tablespoons

natvia (stevia granules) or honey if you prefer

3

tablespoons

gelatin powder

I used grass-fed gelatin
For a Milky Version:
1

cup

milk of your choice

I used Pure Harvest Organic Almond Milk)

3

tablespoons

powdered gelatin

1

tablespoon

natvia (granulated stevia), honey or sugar if you prefer

1/4

teaspoon

vanilla powder

2

capsules dairy-free probiotics powder

such as Inner Health Plus
Things you might like to add:
extra probiotic powder

protein powder, vanilla powder, green powder, bee pollen, maca, fish oil, etc
Instructions
For the Fruity Gummy Bears:
Place pureed fruit into a beaker for easy pouring into the moulds.

In a small saucepan whisk liquid with gelatin over low heat, until dissolved. It is not recommended for the mixture to boil.

Pour the gelatin liquid into the pureed fruit and whisk to prevent the gelatin from setting in clumps. Add anything else you might like and whisk to incorporate.

Pour the mixture into moulds and place in the fridge for 15 or so minutes to set (if you place the moulds on top of an ice-filled tray, jellies will set quicker).

Remove from moulds and store in the fridge in an air-tight container for 1-2 weeks.
For the Milky Gummy Bears:
Heat 1/2 cup milk and gelatin in a small saucepan over low heat, whisking until the gelatin is dissolved. Remove from heat. Whisk in remaining milk, natvia, vanilla powder and probiotic mixture.

Pour into moulds and place in the fridge to set for 15 minutes or so.

Remove from moulds and store in an air-tight container in the fridge for 1-2 weeks.
This article contains some affiliate links.