Did you know that the two animals on Australia's national emblem, namely the kangaroo and the emu, were chosen because neither of them can travel backwards? How cool is that! I bet now you'll see our coat of arms in a brand new light… especially once you've cooked it and tasted it too.
Let's admit it: we have come a long way from our pioneering, Crocodile Dundee-esque roots. Even though Paul Hogan and his character have done a tremendous job promoting Australia to the rest of the world in the 80s, the language and symbolism used in the movie are so, well, last century…  
The Australian attitude today is that of self-esteem and sophistication. Our people are talented, determined and proud to be Aussies. A recent study of the Aussie slang suggests that even our language is moving on with the times, ditching many old-fashioned words and phrases. Just like our own roo and emu on the coat of arms, we have been focussed on looking and moving forward. Despite this focus on the future, we still love to call each other mate and our favourite greeting has remained a hearty G'day. And we are blessed by the ability to eat what's on our coat of arms. In a Modern Australian fashion, of course. 
For anyone still curious or wondering, we don't ride kangaroos to work. We don't keep koalas as pets in our back yards. We don't drink Foster's beer, we export it and let you enjoy it instead. And, despite numerous claims, we are definitely not the only nation in the world which eats what's featured on its coat of arms. It's one of those myths we can afford to uphold because, despite the advancements of technology and travel, we are still a good few hours away from the Old World meaning it is still expensive and time-consuming to come over and actually check.
The difference between us and the 21 other countries which put their national emblems on the menu (thank you Mr Atkins for compiling the list) is that our coat of arms makes for a fantastically good, nutritious and a… slightly mystical  feast!
PS I never told Mr Chipconnoisseur that he was in fact eating roo skewers – he enjoyed them very much though. I asked twice, just to make sure…
Serves 2
Kangaroo skewers with a cucumber salad wrap
Kangaroo meat is a great source of high-quality protein, it contains only 2% fat and is a good source of heart-friendly omega-3. It is a particularly rich source iron and zinc, plus an important source of several B-group vitamins, namely riboflavin, niacin, Vitamin B6 and Vitamin B12. The meat's flavour is non-offensive, resembling closely veal or beef in both flavour and texture. For best results it should be cooked to medium well.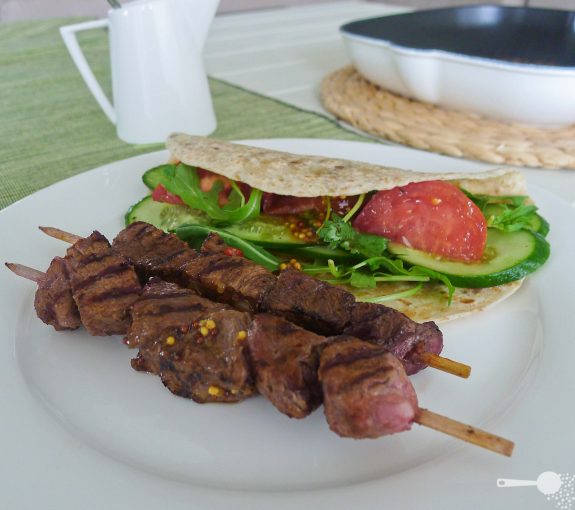 For the kangaroo skewers:
350g kangaroo steaks or kangaroo kebabs
3 tbsp tomato paste
2 tbsp olive oil
1 tbsp thyme
wholegrain mustard, to serve
For the salad wraps:
2 multigrain tortillas
1 cup rocket
1 medium cucumber
1-2 medium tomatoes
1 tsp Italian herbs
1 garlic clove, crushed
1 tbsp olive oil
1 tbsp lemon juice or white wine vinegar
To make the skewers, chop steaks into cubes and thread 4-5 pieces onto each bamboo skewer. Combine tomato paste, olive oil and thyme in a bowl and pour over the skewers. Marinade for about 1 hour. If you're in a rush allow to marinade while you make the salad wraps.
Heat a grill pan or barbecue to medium high and cook skewers 3 minutes on each of its 4 sides. Allow to rest for a minute before serving on or off the skewers.
To make the salad, slice cucumber thinly on the diagonal. Quarter tomatoes. Mix herbs, oil and vinegar in a small bowl and combine with the cucumber and tomatoes. Warm up tortillas in a microwave or in a pan on the stove for about 20 seconds. Top half with rocket and arrange salad on top. Fold over tortilla to wrap.
Serve skewers with the cucumber salad wrap and a helping of seeded mustard. Season with pepper if you wish.
Like this post?  Comment or share it via Email, Facebook, Twitter and more using buttons above the comment box.