Become the queen (or king) of quick go-to desserts with these creamy Cheesecake Galettes topped with juicy strawberries and even juicier Blush sweet delight tomatoes. Plus get the FREE Tomato Recipe eBook.
Yup, that's right. Tomatoes in a dessert. Technically they are a fruit so their beautiful full flavour lends itself well to balance out the creaminess of the cheesecake filling. It is so easy to whip up, you don't even need to wash the processor when switching from pastry to filling. Totally my kind of dessert.
Up until recently I was of the view that the best tomatoes are grown in the summer – I know traditionally they are in Europe and I can never get enough of the 'meaty' flesh, the aroma that permeates the kitchen when one is sliced open and he flavour that simply pops. However, I have recently discovered that greenhouse-grown tomatoes such as the range of Blush varieties is available all year round and it's actually a good thing.
Surprisingly, it's even better for the environment because greenhouse tomato production uses anywhere up to 90% less water than traditional methods and many of the greenhouses use solar panels to produce their own energy (even selling excess back to the grid!). Now that's something I can totally get behind.
I must confess, I loved the challenge of creating a dessert recipe using the fruit normally used in a savoury salad. The tarts keep well in the fridge, once cooled, for 2-3 days and can be placed in
FREE EBOOK: For more tomatoey inspiration, checkout the Blush Tomatoes eBook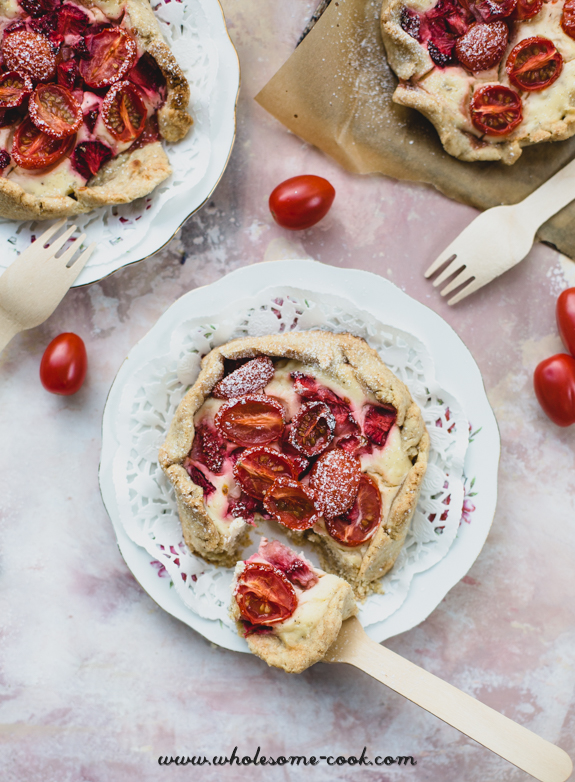 This post was brought to you by Wholesome Cook in collaboration with Blush Tomatoes.
Strawberry and Blush Tomato Cheesecake Galettes
If you want to make these nut-free, feel free to use ½ cup wholemeal flour instead of the almond meal. This recipe post was sponsored by Blush Tomatoes.
Ingredients
FOR THE PASTRY:
1

cup

wholemeal flour

plus extra for dusting

1/2

cup

almond meal

1

tablespoon

raw sugar

1/2

teaspoon

vanilla powder or 1vanilla extract

1/4

teaspoon

sea salt flakes

130

g

cold unsalted butter

cubed

2

tablespoons

iced water
FOR THE FILLING & TOPPING:
250

g

cream cheese

2

tablespoons

fresh cream

2

tablespoons

honey

1/4

teaspoon

vanilla powder

100

g

Blush Sweet Delights Tomatoes

halved

100

g

large strawberries

diced finely

2

teaspoons

golden icing sugar
Instructions
In a large bowl of food processor, pulse the flour, almond meal, sugar, vanilla, salt and butter until the mixture resembles coarse breadcrumbs. Add 2 tablespoons water and pulse until the mixture comes together forming a solid dough. Remove the pastry from the food processor, form into a log, wrap in plastic and place in the fridge for 15 minutes to chill.

Meanwhile, place cream cheese, cream, honey and vanilla in the food processor and process on medium, scraping down the sides a couple of times, until the mixture is smooth. Mix together diced strawberries and tomato halves.

Preheat oven to 180C (160C fan-forced).

Remove pastry from the fridge and cut into 4 equal rounds. Place each on a sheet of baking paper and flatten down to a 5mm thin round. Divide the cream cheese mixture evenly between the rounds, dolloping onto the middle of each round, leaving about 2cm pastry uncovered. Top each with the strawberry and tomato mixture and press the topping gently into the cheese mixture. Using a knife, gently life the overhanging pastry and fold in over the cheesecake mixture, pressing down gently over the filing pinching the sides.

Bake for 30 minutes or until the crusts are golden. Transfer to a wire rack to cool for at least 1 hour before dusting with a little icing sugar, if using, and serving.