This homemade nutella recipe is easy to make, contains no refined sugar and is a delicious choc hazelnut spread alternative. You can also try making your own macadamia nut butter.
What's in Nutella?
We all know the original, right? It's smooth and delicious. But did you know that; more than half of Nutella is simply sugar?
Palm oil appears as a second ingredient on the list which means it's quite high, and that can be an issue, too. Then come the hazelnuts, at 13% volume, cocoa, soy lecithin and vanilla. As a result, the hazelnut spread is more like a sugar spread.
Don't get me wrong, I actually like Nutella. But to me it's definitely a sometimes food – enjoyed when we eat out or at food festivals. I don't buy it and don't keep it at home, because it will get eaten… don't stock offenders is my rule number 1 for limiting overconsumption of foods like this.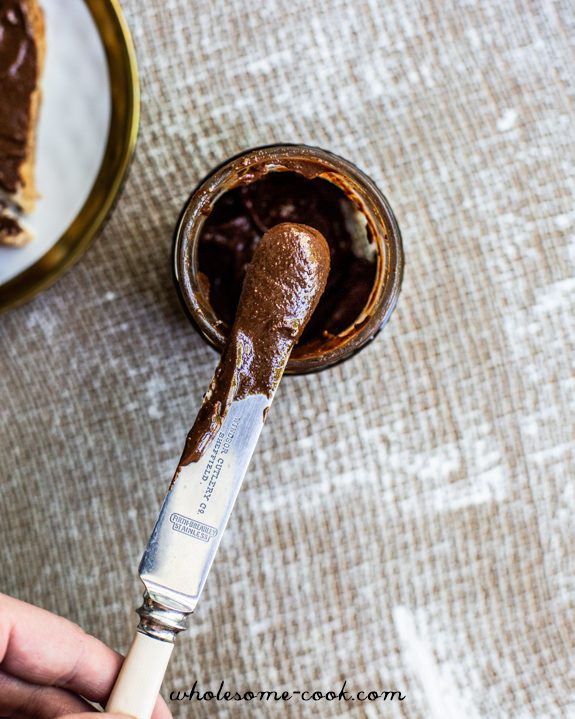 Healthier alternatives to Nutella
However, there are healthier alternatives to Nutella out there. Sure, the flavour and texture is not always on par (obviously the ingredient ratio is different). But they are definitely better for you.
I particularly like this wholefood spread made in Australia. It contains 65% hazelnuts and is sweetened with coconut nectar! This mixed nut one – no hazelnuts though – is not bad either and contains whole dates as a sweetener. You can pick it up from the supermarket, too.
Simple no sugar no palm oil Nutella recipe
Alternatively, you can follow this simple homemade nutella recipe to easily make your own. It's sugar-free and palm oil-free. The recipe is adapted from the Rocher-inspired chocolate cake icing featured in my book, The Wholesome Cook.
Hazelnuts are naturally quite fibrous and lower in fat than, say peanuts, so they need a little help getting to that creamy hazelnut butter consistency.
The rest is pretty simple: you will need peeled hazelnuts and some good oil – I like macadamia oil or mct coconut oil as it stays liquid even at cold temperatures. Some vanilla, and for a no sugar nutella a touch of less processed sweetener such as coconut nectar, maple syrup or honey.
A small food processor works best for smaller quantities.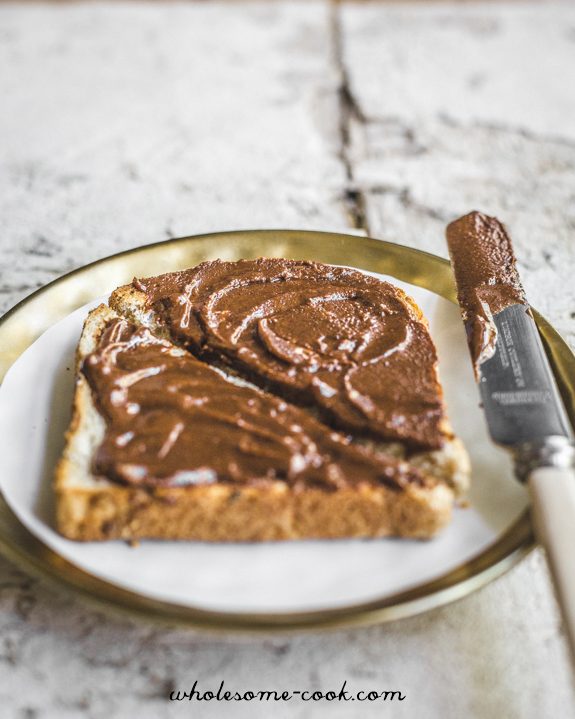 You can make a larger batch as the choc hazelnut spread will keep in the pantry or fridge for a few months, but I prefer to make a fresh batch when I need it. That way you are not running the risk of the oils in the homemade nutella from going rancid.
Homemade Nutella Choc Hazelnut Spread
This homemade nutella recipe is delicious, VERY hazelnutty and uses a natural sweetener to make it lush and delicious. You can find peeled (skinless) hazelnut kernels from the nut or baking aisles of most major supermarkets.
Equipment
Small food processor or stick blender with chopping attachment
Ingredients
110

g

peeled hazelnut kernels

2

tbsp

macadamia oil or MCT coconut oil

2-3

tbsp

coconut nectar, maple syrup or honey

plus extra if needed, to taste

1

tsp

vanilla extract

1

tbsp

cacao or cocoa powder
Instructions
Place hazelnut kernels in a small food processor or chopping attachment of a stick blender. Process until the hazelnuts turn into a fine meal. Add oil and continue processing until the meal turns into a smooth butter, it make take 4-5 minutes.

Add coconut nectar, maple syrup or honey, vanilla and cacao or cocoa powder. Continue processing until all ingredients are fully incorporated into the butter. Taste and add extra sweetener if required.

Transfer to a jar and store in the pantry, away from sunlight, for up to 1 month. Alternatively, keep in the fridge.