Low-Fat Wedge Salad dressed with spiced buttermilk and garnished with Smoked Tomatoes – perfect summer entertainer. 
Who knew Iceberg lettuce could be so tasty? Seriously, there are so many types lettuce and fancy salad greens available at the moment, it is hard to remember all of their names, let alone pick a favourite. And as the days are starting to warm up – how warm is it today, it's back to basics with this simple, low-fat wedge salad for me.
I rediscovered the joys of Iceberg since Mr Chipconnoisseur took over "cooking" one day a week.
This involves us being chauffeured to our local pub, The Woolwich Pier, where the salad features on the Sides menu designed by multiple-hatted chef Lee Kwiez. Generally speaking, after a day of cooking and recipe testing I'm not extremely hungry by the time dinner comes so I tend to go for the lighter options on the Sides menu, or pick from the pretty good Kids' menu – swapping out fries for mash or salad instead.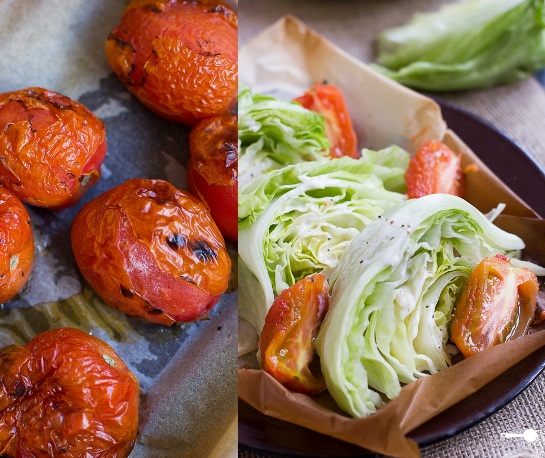 So what makes this wedge salad so different? Well, instead of a classic cheese dressing and bacon topping, the salad is dressed with a lightly spiced buttermilk. The other thing that makes it so irresistibly good are the tomatoes. They have a grilled, smoky flavour, which is easily replicated at home – over the gas stove. Of course, there is the option of adding some croutons and shaved Parmesan cheese as toppings, but I like the simplicity of this dish without them.
For tips on how to make your own buttermilk in minutes, see recipe below.
So, tell me, do you like Iceberg lettuce or do you prefer the more fancy lettuce varieties?
Low-Fat Wedge Salad with Smoked Tomatoes
A light low-fat wedge salad alternative. If you can't get buttermilk, you can make your own by adding 1 tablespoon of lemon juice to half a cup of milk. Mix, stand for 5 minutes and you'll have some delicious buttermilk!
Ingredients
For the Low-Fat Wedge Salad:
1

leaves

small Iceberg lettuce
For the Low-Fat Dressing:
1/2

cup

full cream milk

1

tbsp

lemon juice

1/2

tsp

smoky paprika

pinch

cayenne pepper
Instructions
To make the Smoked Tomatoes:
Preheat oven grill to high.

Turn on the medium gas hob on medium.

Place a wire rack over the hob and arrange whole Roma tomatoes on top. Using tongs, keep turning the tomatoes every 10 seconds or so, until the skins are lightly charred and beginning to break.

Transfer tomatoes onto a roasting tray and into the oven for 5 minutes.

Remove from oven, peel skins and place peel tomatoes in the fridge to cool.
To make the Low-Fat Dressing:
Mix milk with lemon juice in a jug. Set aside for 5 minutes, for the milk to curdle and turn into buttermilk.

Add paprika and cayenne pepper. Mix well. Set aside.
To assemble the Low-Fat Wedge Salad with Smoked Tomatoes:
Cut Iceberg lettuce into wedges and arrange on a flat serving platter.

Cut smoked chilled tomatoes in half lengthways and arrange around the lettuce wedges.

Drizzle the salad with Low-Fat Buttermilk Dressing.