Seriously, it takes less than 15 minutes to make a batch of these delicious Mini Churros. And this simple (gluten-free, if you prefer) choux pastry can also be used to make cream-filled Eclairs and Profiteroles.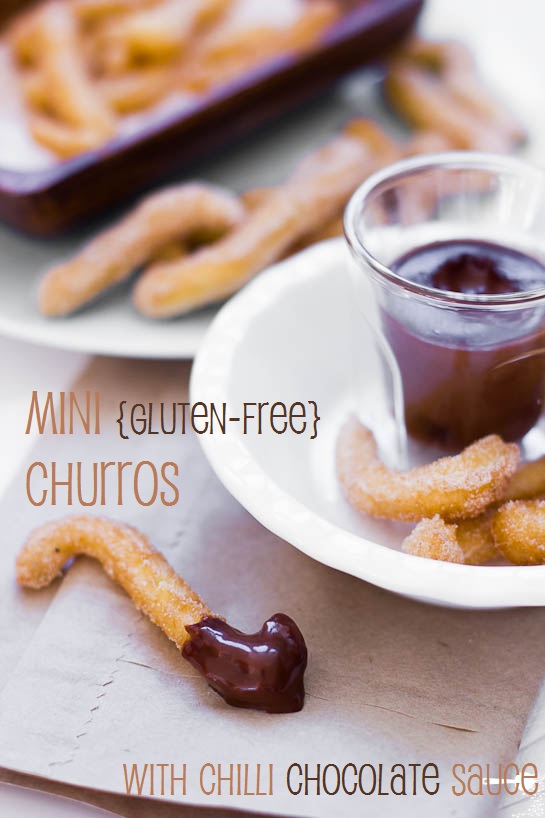 Oh Em Gee! So cute, aren't they?
And yes, ready to be devoured in under 15 minutes. I was inspired to whip up a batch for datenight dessert the other night because of this this Spanish donut-making video. It makes it look really easy, and hands down, it really is! While I used my regular choux pastry recipe for us, I wanted to make sure I got the gluten-free version right for you also. The churros in my photos are in fact gluten-free.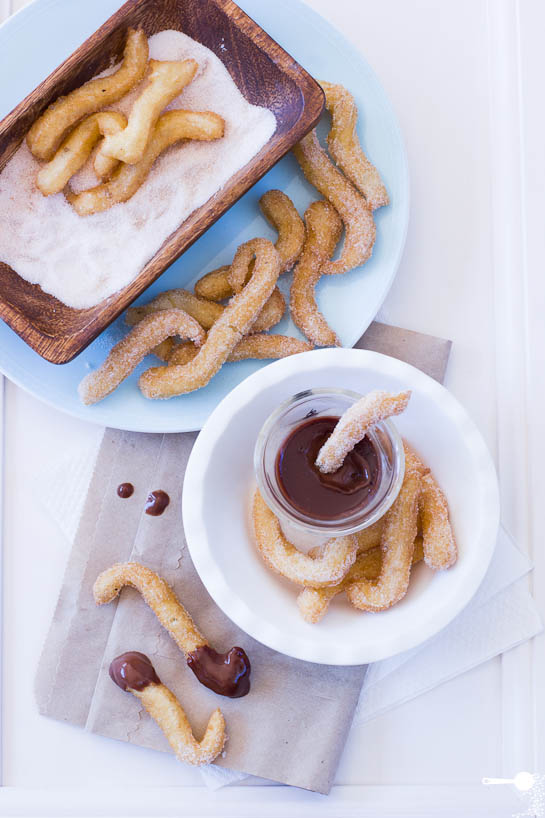 The texture of the donuts is so much lighter than the regular flour choux, almost too fragile to handle hence the churros turn out a little squiggly. Delicious nonetheless.
Oh, and the same choux pastry can be used for my other favourites: eclairs and profiteroles, in a slightly healthier, although cream-filled, baked incarnation. Actually, it's much of a muchness really on the fat front so pick your own favourite and run with it…
I think you can see which ones are my current favourites though! I think the Chilli Chocolate ganache-like dipping sauce has something to do with it. What do you think? Cinnamon or sea salt would work just as well if heat is not your thing…
Now, naturally, these are not an everyday food eventhough they are so temptingly easy to make. Best enjoyed when friends come over of when you have a datenight with your own special  Mr Chipconnoisseur.
So, tell me, have you had churros before? Would you make a batch at home? What would you add to the chocolate?
Mini Churros with Chilli Chocolate | Gluten-Free Choux Pastry
This 5 ingredient gluten-free choux pastry is super quick and easy to make - perfect for those Mini Churros, or for eclairs, profiteroles and cream puffs. You will need a piping bag (single use is fine) and a small star-shaped nozzle - mine was about 6mm wide. For a regular version using plain flour, use 1/4 cup of flour and 20g butter, method remains the same.
Ingredients
For the gluten-free Choux Pastry | Churros:
1/8

cup

plain gluten-free flour

1/8

cup

rice flour

1/4

cup

water

25

g

unsalted butter

cubed

1

egg

Olive or coconut oil for frying
For the Cinnamon Sugar:
1/4

cup

unrefined sugar

or natvia

1

tsp

ground cinnamon
For the Chilli Chocolate Sauce:
25

g

dark chocolate

1/4

cup

cream

ground chilli

to taste
Instructions
To make the gluten-free Choux Pastry | Churros:
Sift the flours into one bowl.

Place water and butter in a small saucepan. Cook over medium-low heat until the butter has melted and the mixture comes up to the boil.

Working quickly, remove the saucepan off the heat, add sifted flours, place back on the heat and mix vigorously with a wooden spoon until the mixtures forms a dough ball.

Transfer pastry ball into a clean bowl. Add egg and whisk together until the pastry is smooth and lightly glossy.

Transfer pastry into a piping bag, twist the end of the bag, squeezing mixture gently into the nozzle.

Heat olive oil in a small, shallow saucepan or frypan over low heat - the oil level should only be about 2cm or 1inch deep, until just starting to smoke.

Squeeze choux pastry logs into the hot oil, about 5cm or 2inches long, cutting off each churro log with pair of kitchen scissors.

Fry 4 to 5 at a time, for about 20 seconds on each side, or until golden brown.

Remove from oil onto paper towel using metal tongs.
To Roll Churros in Cinnamon Sugar:
Mix caster sugar and cinnamon in a bowl.

Once cool enough to handle, roll your mini churros in the sugar. And they are ready to serve.
To make the Chilli Chocolate Sauce:
Place cream and chocolate in a small saucepan and cook over low heat, stirring, until the chocolate has melted. (Alternatively, you can make this in a microwave 2 x 20 seconds). Add chilli and mix well.

Transfer to a serving dish.