Banh Mi (bun me) is a popular Vietnamese baguette roll stuffed with all manner of salad – think of it as the more flavourful cousin of the classic that's salad sandwich.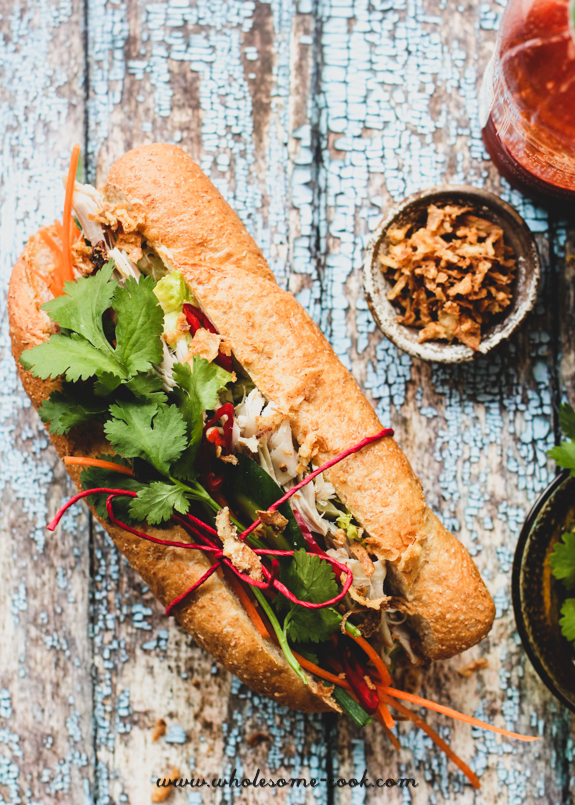 Not all sandwiches were created equal. When I tried my first Bánh Mì from a little hole-in-the-wall vendor, Phuong, at Hunter Connection, I was instantly hooked. Every week for about a year I kept going back to get my $4.50 made-to-order Bánh Mì fix. Oh what joy!
What is a Banh Mi Veitnamese Salad Roll?
So what's the big deal, you might be thinking, doesn't Subway do that already? You pick your fillings, toppings and sauce and they stuff them into a footlong?
Well, yes, they do but Banh Mi is different. A Banh Mi Vietnamese Salad Roll is deliciously light and crusty, spread with pâté and stuffed with fillings which include fresh salad and flavourful meat selections.  Pork cold cuts, sweet grilled pork meat balls or succulent barbecue chicken are often included.
Then the roll is drizzled with soy sauce and sprinkled over with chilli. It's an entirely different roll game.
The other thing that makes the Bánh Mì so special are fresh sprigs of coriander (cilantro) that are artfully placed in amongst the salad topping.
Why are Banh Mi so delicious?
I thought I'd share one of my favourite lunch recipes of late, the Banh Mi. Apart from a burst of flavour in every bite, it ticks quite a few boxes for a breastfeeding mum. You get to have a nutritious salad, an instant energy boost from the bread, a little fat that helps with nutrient absorption and some protein in form of the meat.
Many Vietnamese-run bakeries sell these deliciously fresh salad rolls. Recently Bun Me chains have opened up shop all over Sydney offering salad rolls and other Vietnamese classics like pho and rice paper rolls.
How to make Banh Mi Vietnamese Salad Roll at home
They can be easily made at home, too. Chicken or various pork cold cuts make for a tasty variation for meat eaters. I often add shredded barbecue chicken to mine for extra ooph. While butter and pate are used to spread on the bun, you can omit these – or swap them out for homemade mayo.
Also, instead of a white baguette, I opt for a wholemeal variety. Sourdough rolls work well too, but to be honest I quite like the fluffy texture of the roll considering the amount of stuffing inside.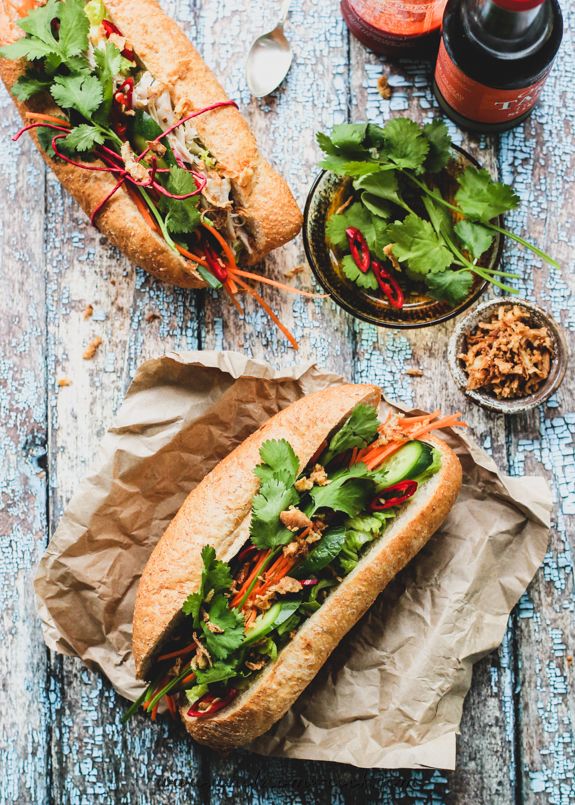 When making the rolls at home, stick with the salad toppings suggested, but try to experiment with your meat selection.
I like a western version of ham and spicy salami, as well as the more traditional barbecue chicken or even leftover roast meat. Thinkly sliced leftover crispy roast pork belly is a real treat. In terms of the bread, I'm all for homemade, but they are much cheaper to buy. Aim for the shorter, 6 inch rolls.
You can buy Vietnamese bread rolls from most Asian-run bakeries and even supermarkets.
Chilli is optional, but I like heat and sometimes I use Worcestershire sauce instead of soy for extra kick. Easy meat options could include cold cuts, barbecue chicken and shredded roast leftovers.
Vitenamese Salad Rolls - Bánh Mì
Butter or chicken liver pate can be used as a spread - as can be mayonnaise in a dairy-free version. Fried shallots are available from some supermarkets and most Asian grocers.
Ingredients
For the Salad Roll
2

wholemeal baguette rolls

1

small carrot, julienned

1

teaspoon

fish sauce or use ½ teaspoon salt for a vegetarian version

1

teaspoon

lime juice

1

baby cos lettuce, shredded

1

Lebanese cucumber, sliced finely

½

red onion, sliced finely, optional

1

sprig

spring onion, green parts only

A few

single stalks

fresh coriander

1

red long chilli, sliced finely
For a chicken or pork version:
1

cup

shredded chicken meat or leftover finely sliced roast pork
To serve:
butter for spreading

chicken liver pate, optional

2

teaspoons

tamari

Sriracha sauce, optional

2

teapsoons

fried shallots
Instructions
Instructions

Cut each roll open lengthways without splitting it in half.

Place julienned carrot in a small bowl, add fish sauce or salt and lime juice. Allow the mixture to pickle for a few minutes.

To make Banh Mis layer lettuce, cucumber slices, onion if using, pickled carrot, spring onion and coriander sprigs in each roll. Top with meats, if using.

Drizzle tamari and sriracha over the top, and sprinkle both rolls with fried shallots.