This simple raw gluten-free cookie dough is sooo good! A great all-natural and low sugar treat for kids. Eat raw or bake into biscuits. Dairy-free as well. What more could you want?
Rainy sick home days call for making cubby houses out of couch cushions, playing hide and seek, and making cookies of course! This recipe is definitely a winner because it can be enjoyed raw as cookie dough bites, or baked into crunchy cookies as well.
It's the cookie dough you can eat raw
Because the cookie dough is made using coconut flour, it's gluten-free, and you can enjoy the little balls of goodness raw. So, what's in them exactly?
All things coconut to start: coconut flour, a smidgen of coconut sugar, organic coconut cream and extra virgin coconut oil.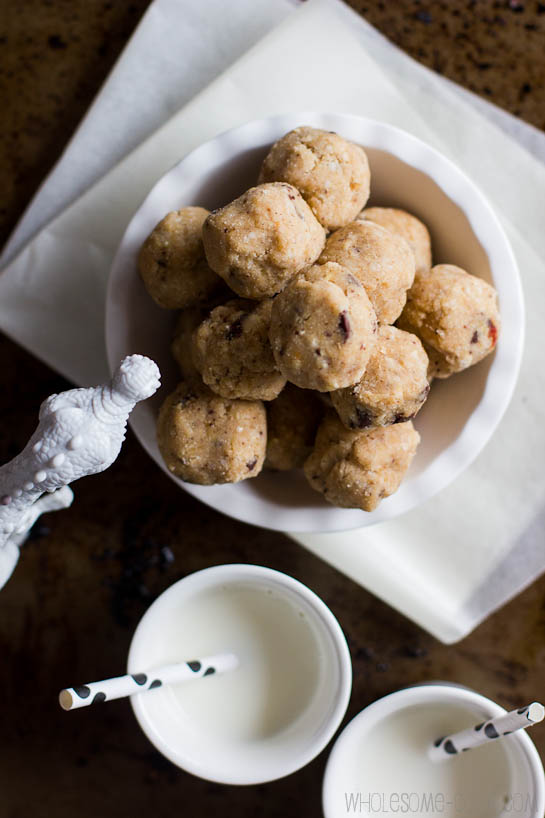 There are sea salt flakes and all-natural 100% smooth peanut butter. Chopped dark chocolate with goji berries (Loving Earth 62% Raw Cacao Goji & Camu Camu) makes them more indulgent. And, last but not least quinoa flakes.
Having said that, brown sugar and chococlate chips can be used in place of coconut sugar and dark chocolate if you can't find the specific brand.
You can bake the cookie dough as well!
Prefer a baked cookie texture?
Simple. Flatten the balls then bake them in the oven and store in an airtight container in the pantry. Enjoy with a cup of milk, a tea or as a snack on the go. They have a crunchy texture when baked, definitely a win!
Kids love making and eating them
The raw cookie dough is a bit like play doh so it's perfect for little hands. And what little kid doesn't like getting hands on in the kitchen? It's a great way to encourage kids to become more adventurous eaters as well.
Shape them into balls or make into shapes if you like. You can bake them together or play pretend in the toy kitchen with them – make the dough and let the kids pretend they are baking them.
Enjoy a picnic together, have a tea party and just connect.
OTHER COOKIE RECIPES YOU MIGHT LIKE: Wholesome Cereal Cookies | Chewy cashew, LSA and brown sugar cookies | Super Spread Cookies
Quinoa, Coconut and Salted Peanut Butter Cookie Dough
This chunky Quinoa, Coconut and Salted Peanut Butter Cookie Dough is a great all-natural and low sugar treat for kids. Eat raw or bake into biscuits. Coconut sugar and vegan chocolate can be subbed by using dark brown sugar and regular dark choc chips. Gluten-free Dairy-free and Vegan.
Ingredients
For the Quinoa, Coconut and Salted Peanut Butter Cookie Dough:
1/3

cup

all-natural 100% peanut butter

1

tbsp

maple syrup

1/2

cup

organic low fat coconut cream

(plus extra)

3

tbsp

virgin coconut oil

melted, extra

1/2

tsp

sea salt flakes

2

tbsp

coconut sugar

1/2

cup

coconut flour

1/2

cup

quinoa flakes

25

g

dark (70% cocoa) chocolate
Instructions
To make the Quinoa, Coconut and Salted Peanut Butter Cookie Dough:
In a large bowl mix together wet ingredients: peanut butter, maple syrup, coconut cream and coconut oil.

Add sea salt flakes and coconut sugar and mix to combine.

Now add dry ingredients: coconut flour, quinoa flakes and chopped chocolate.

Mix all together to form a dough. Add a little coconut cream if the mixture is too dry to form into balls.
To serve:
Scoop 1/8 cup of dough and split that in half. Form balls and place on a serving plate.Serve with a glass of (your choice of) milk.
To bake:
Preheat oven to 200C (180C fan-forced, 400F, gas mark 6)

Flatten previously prepared dough balls slightly and place on a baking paper lined tray.

Bake in the preheated oven for 8 minutes or until the cookies are starting to turn golden.

Remove from oven and cool on a wire rack.
To store:
Store Cookie Dough and Biscuits separately in an airtight container in the pantry