If you like cream cheese and the tangy flavours of feta you will absolutely love Labne (Hung) Yoghurt Cheese! Preserved in oil, and spiced with a blend of lemons, garlic and paprika, it will last for a month! It's a much healthier version than store-bought cream cheese, too.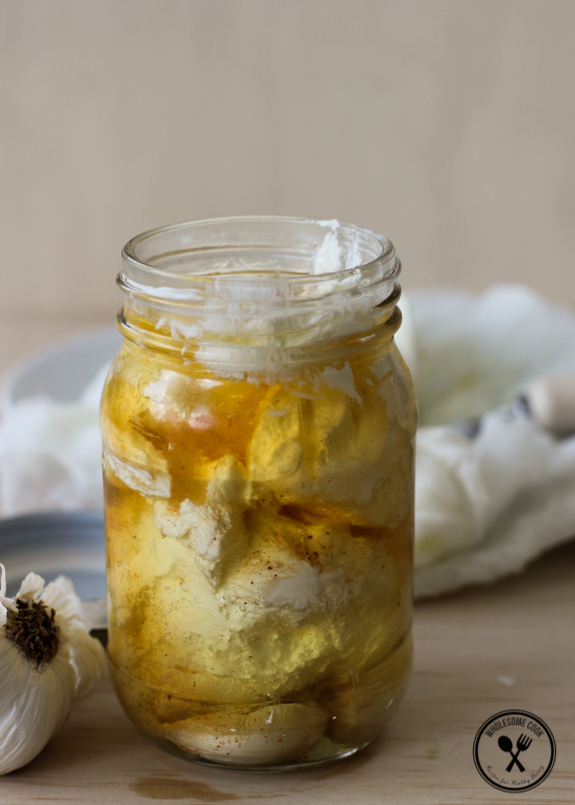 How do you make Yoghurt (Hung) Cream Cheese and Labne
That's right it only takes a sinlge ingredient to make it: natural or Greek-style yoghurt. The other 4 ingredients are there to preserve and flavour the cheese. I prefer the savoury herb and spice version, but the yoghurt cheese goes just as well with honey, nuts and raspberries or poached dried fruit as a dessert.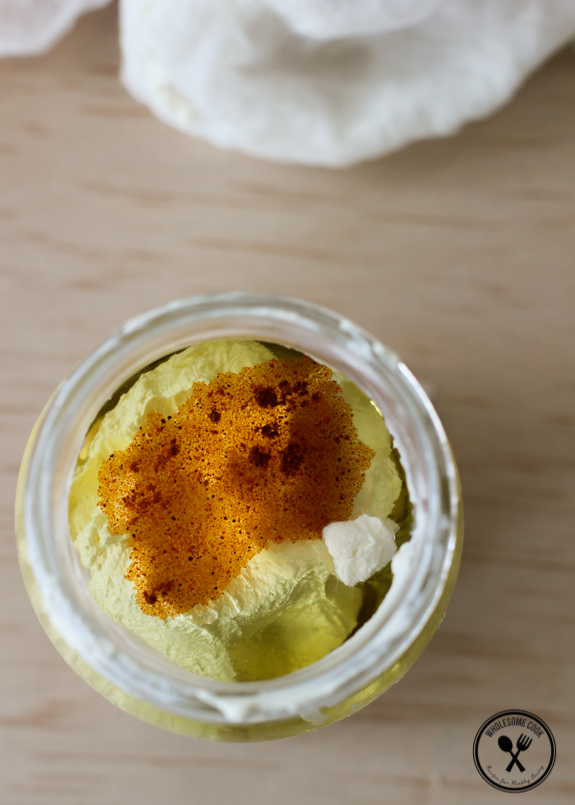 It's creamy, tangy and goes well as a spread, dip, as a base on bruschetta or even mixed into a Greek salad or dolloped onto grilled lamb. And because it is made from yoghurt it contains very little if no fat if you choose a no-fat yoghurt! How good is that?
Once placed in oil, labne will keep in the fridge for up to 1 year. It will get more sour with age, so I recommend consuming it within a month. I'm sure that won't be an issue – it's so tasty!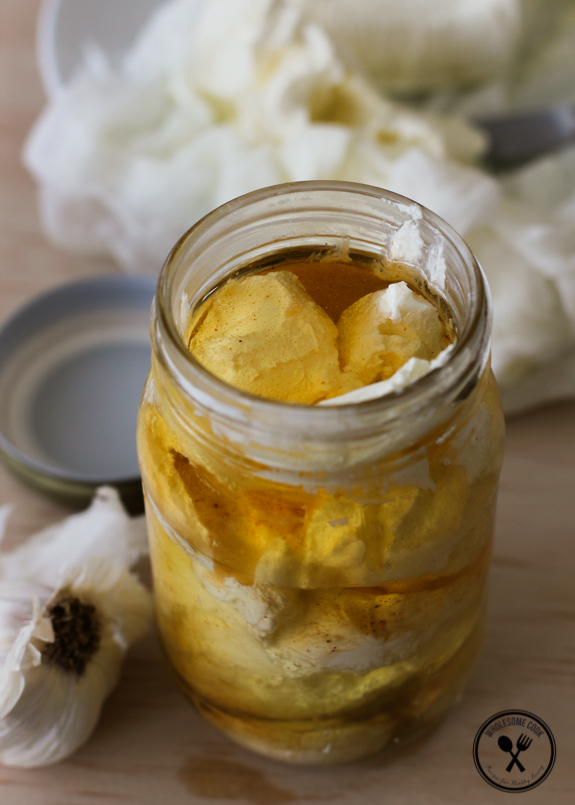 Labne Yoghurt Cheese Balls
Actual working time is around 15 minutes, but you need to allow 12-36 hours for the yoghurt to strain in the fridge. Greek full fat yoghurt is the best, but because the texture of the cheese becomes dense and creamy, low fat varieties can also be used. Makes about 450g / 1lb cheese (a fist-sized ball). Do note that olive oil will "set" and seem grainy when stored in the fridge - it is not off - it just what happens to a pure oil when placed in the fridge. Simply enjoy some with your cheese or leave at room temperature for 10-15 minutes before serving.
Ingredients
For Labne Yoghurt Cheese Balls:
500

g

Greek-style yoghurt

17.5oz

1

square 1/2 sqm gauze

muslin or cheese cloth
Flavoured oil option 1:
2

cups

olive oil

4

cloves

galic

sliced

2

slices

lemon

1

tbsp

smoked paprika
Flavoured oil option 2:
2

cups

olive oil

4

fresh bay leaves

4

cloves

garlic

sliced

1

tbsp

Zataar or other Middle Eastern spice blend
Instructions
To make the cheese:
Fold the cheesecloth into a 30-40cm square, 2-3 single layers thick. Place the cloth over a bowl. Mix yoghurt in the tub and spoon into the middle of the cheese cloth. Gather the edges up tightly and tie into a knot on the top.

Using a couple of bamboo skewers, or a chopstick, hang the yoghurt ball over a plastic container and place in the fridge. Allow the whey (milky water) to drip into the container for 24 - 36 hours. Pour off the whey (and keep for use in smoothier or cake batters) after the first 12 or so hours and you will be able to see how much is draining over the next period.
To preserve the cheese in oil and herbs:
Place oil, sliced garlic, lemon or bay leaves into a tall airtight container or jar. Add spices and mix well. Gently unwrap the cheese and place into the oil. Pop the jar in the fridge and leave for a couple of hours for the flavours to infuse. The powdered spices will settle on top of the cheese lending it their flavour.
To serve:
Spread spoonfuls on bread or grilled meat, or mix into salads. See note above about olive oil "setting".
To store:
Seal in a jar or a sealed container and refrigerate for up to 1 month, although the cheese will keep for longer.