Strained or Hung Yoghurt Cream Cheese is made using natural Greek yoghurt, a muslin cloth and a little waiting time. It can be served as a savoury spiced Labneh, Shrikhand with sweet toppings, used in baking, cooking or eaten fresh. Since most of the whey is strained away, it can be enjoyed by people who are mildly lactose intolerant.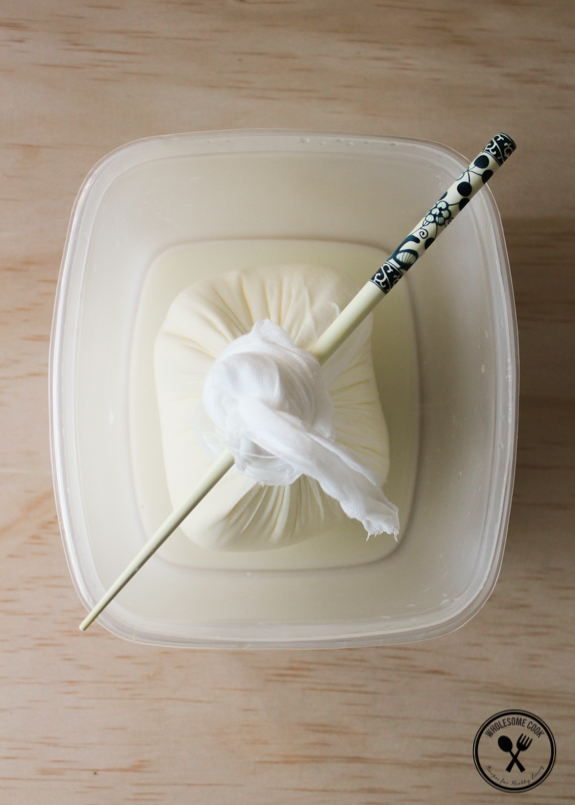 What is Strained Yoghurt Cream Cheese?
Strained or hung yoghurt is a popular style of cheese used in Southern European, Middle Eastern, Central and Southern Asian cooking.  
Unlike cream cheese, yoghurt cheese is high in gut beneficial bacteria, is creamy without the excess fat and since most of the whey is strained away, it can be enjoyed by people who are mildly lactose intolerant.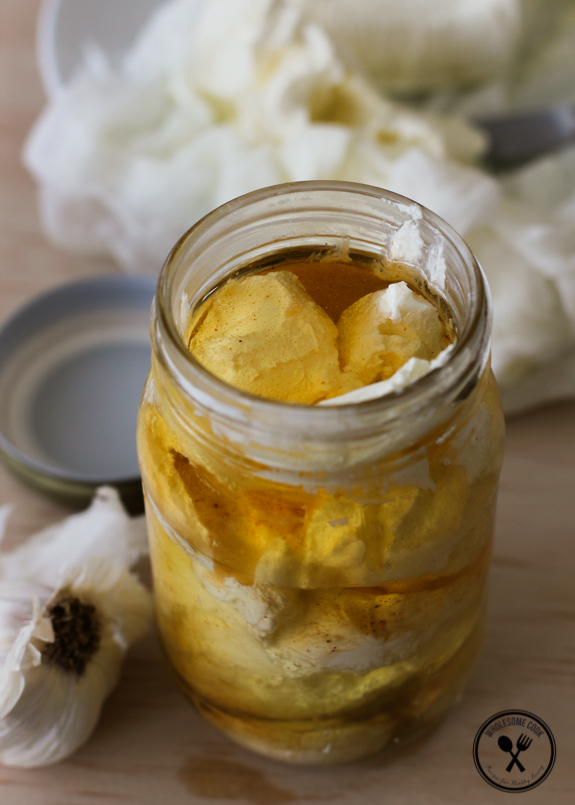 I first discovered Labneh – balls of strained yoghurt preserved in herb-infused oil about 3 years ago. It became an instant infatuation.
I quickly decided to make my own because, firstly, it was cheaper and because I could preserve mine in pure olive oil instead of "vegetable" oil blends that the more expensive stuff from the deli came swimming in.
So, how do you make it?
It's simple really. See step by step instructions below or see my full printable recipe for making strained yoghurt / hung yoghurt cream cheese.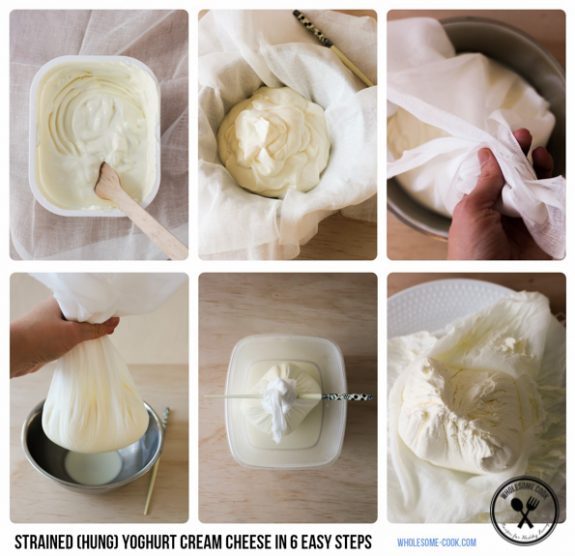 The secret of this recipe lies in the quality of the yoghurt used.
I absolutely adore Farmer's Union Greek-style yoghurt. It's thick and creamy already without any thickeners (gelatine, gums) or additives frequently used in  a few of the other brands, plus it is beautifully tart. 
After making strained yoghurt cream cheese a handful of times, I realised just how very versatile the cheese was and how easily it could form a base for many dishes, both sweet and savoury. Nowadays I keep a serving on hand most of the time.
7 of my favourite ways to use Hung Yoghurt Cheese
1. Make Middle Eastern Labneh and preserve it in quality olive oil and your favourite blend of spices and herbs. It will last for months, but I bet it will be all gone not before long. Spread it on bread, use to top salads, add some to mash.
2. Because of the lower water content than yoghurt itself, it can be used as an addition to sauces without splitting, so it is a fantastic for soups and curries.
3. It makes for a creamier, richer base for dips such as the Greek tzatziki, Lebanese garlic sauce or Turkish haydari which is similar to tzatziki but does not include cucumber. My most recent favourite is salmon and yoghurt cream cheese dip – you can use this yoghurt dip version as a base. I'm also thinking of making a smoked mackerel version!
4. Use it in frostings and icings instead of cream cheese – less fat and a great dose of healthy cultures in each cupcake serve.
5. Bake it in things like this Lime Yoghurt Cheesecake, set it in this No-bake Yoghurt Cheesecake or anywhere else where cream cheese is required.
6. We use it as topping for nachos and tacos instead of sour cream, crumble it into for salads and or enjoy spread fresh on Ryvita crispbread topped with smoked salmon, tomato or tuna.
7. Make Indian Shrikhand (recipe below), which is a sweet strained yoghurt dish that incorporates sugar – I prefer to use honey or rice syrup, nuts and fruit. It's refreshing and often enjoyed instead of ice cream. You can obviously go all out in terms of the seeds, nuts and spices.
Follow this recipe to make the Strained (Hung) Yoghurt Cream Cheese, without the garlic and herbs, then use it to make this delicious dessert.
Strained (Hung) Yoghurt Shrikhand
Shrikhand is a popular Indian dessert made from yoghurt, sugar and nuts. It can be enjoyed during warmer weather in place of ice cream. Make it your own by adding your favourite nuts and seeds, dried fruit if you wish, and a drizzle of honey or rice syrup.
Ingredients
1/4

cup

mixed nuts and seeds

1/2

tsp

cinnamon powder

1/4

tsp

ground cloves or cardamom

2

tbsp

honey or rice syrup
Instructions
Spread strained yoghurt in a bowl or on a side plate.

Sprinkle over with your favourite nuts, seeds and spices.

Drizzle with rice syrup or honey and serve as a dessert, with savoury crackers or side to a cheeseboard.