If you are a serious coffee lover like me, you will appreciate the intense flavours of freshly brewed espresso and ground coffee beans in this delicious yet simple to make ice cream. No custards to make – just coffee, some sugar and cream. Oh, and choc chips for good measure!
No ice cream maker? Head on over to Delicieux to WIN a Cuisinart Ice cream maker (closes Sun 4 March, Australian residents only).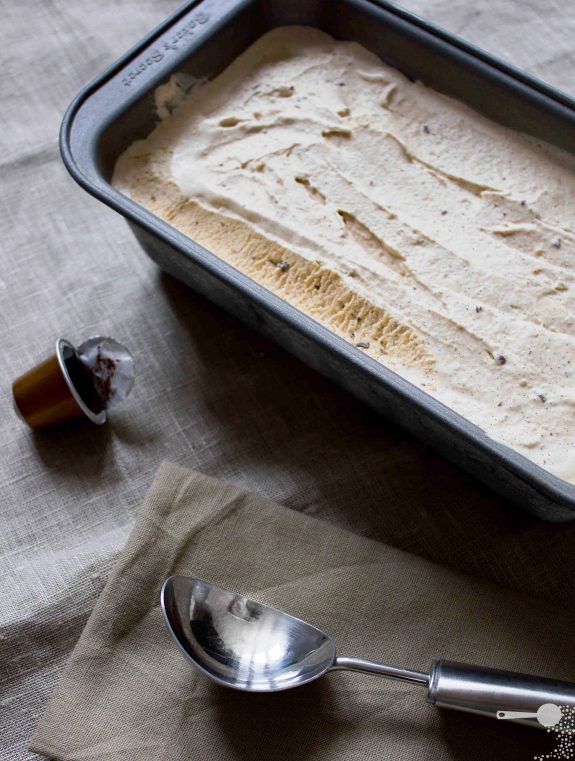 While the recipe has been right under my nose eversince I got my Cuisinart ice cream maker, it was Chanel who first alerted me to its existence. I knew I had to make it, after all coffee and chocolate and an occasional glass of red wine is what my doctor had ordered to alleviate those nasty migranes I sometimes get. Now, I can do that on a hot day with a scoop or two of this cool treat.
I can imagine the ice cream going extremely well with an oozy chocolate fondant cake or in a double hit affogato, but it's just as delicious eaten straight out of the tub, in a waffle cone or a cup.
Coffee choc chip ice cream
I've changed the original Cuisinart recipe to incorporate freshly brewed espresso, extra cocoa and some freshly ground coffee beans for intensity. I also used skim milk and whipped my cream before churning the ice cream, for a lighter consistency.
Ingredients
For the ice cream:
1

cup

skim milk

well chilled

3/4

cup

granulated sugar

60

ml

espresso coffee

chilled

2

tbsp

freshly ground coffee

2

tbsp

cocoa powder

1/4

cup

dark chocolate chips

2

cups

heavy cream

well chilled

1

teaspoon

pure vanilla extract
Instructions
To make the ice cream:
in a medium bowl, whisk together the milk, vanilla, sugar, cocoa powder, espresso and ground coffee until the sugar is dissolved.

In another bowl, whip the cream until soft peaks form.

Add whipped cream and chopped chocolate to the coffee milk mixture and whisk gently to combine.
To churn:
Turn the machine on, pour the mixture into freezer bowl and let mix until thickened, about 25 – 30 minutes.
To store:
Transfer to a chiled loaf tin or an airtight container and freeze for 2 hours before serving.

The ice cream is ready to serve even after longer chilling time - the cream keeps it scoopable at all times.
Subscribe to receive Recipes to your Inbox: