Game day snacking can be both tasty and healthier than your stock standard options, no matter what game you're a fan of. The Aussies and Kiwis (that's New Zealanders) have made it into the Cricket World Cup finals with the big game taking place on Sunday but these finger foods work just as well for big football, rugby, cricket and hockey games. Most of these are quick to make and take only a few ingredients.
These vegan samosas are always a hit at parties – fun to make (you can get the kids involved in wrapping them too).
Opt for organic chicken wings if you can – they are relatively cheap compared to the prime cuts of organic meat and marinating them yourself is a much better choice than buying those ready-marinated wings – I'm always doubtful about the freshness of marinated meats.
Mushrooms are a great source of vitamin-D so they are a perfect snack for game day – you can stay indoors and enjoy a recommended daily intake while watching the game. Read the post to see how you can increase vitamin D content of mushies even further.
Quinoa Sushi Rolls with Three Filling Ideas
These  are always a hit. You can add a little mashed pumpkin to the quinoa for extra flavour, nutrients and stick-together factor. You can also serve them without the quinoa, diy-style with various fillings and wraps for your guests to choose from.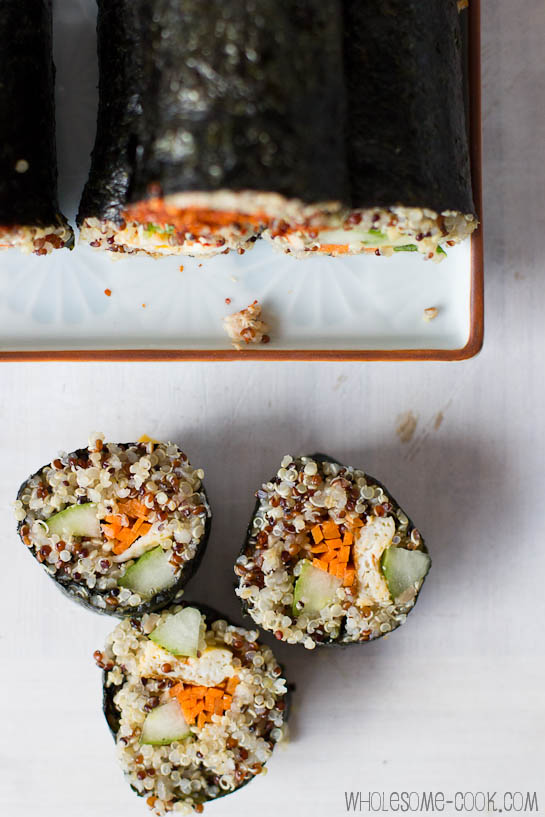 What's a game day without a meat pie? Try to go with free-range pork ribs if you can and get them baking early so that you can pep the pie filling in advance and allow the flavours to mingle.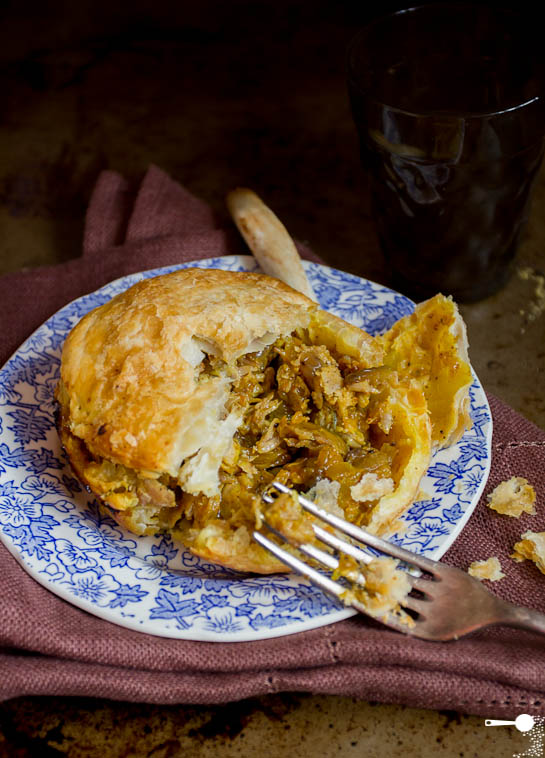 Most store-bought dips contain preservatives, additives and "vegetable" oils but whipping up your own could not be easier using canned chickpeas and a few spices and herbs.
Chipotle and Lime Prawn Salsa with Avocado Mash
A combination of smoky chipotle chillies, lime and creamy avocado – what could be better? Prawns, of course. Or, you can use corn or beans for a vegetarian version, it's up to you.
Torched Salmon Tacos with Mango Salsa
If you love aburi-style salmon found in many sushi shops, you will really enjoy these torched salmon tacos with the last of the season's mangoes in a deliciously sweet and tangy salsa. Homemade torillas are a bonus, but if you prefer a store-bought wrap, Mountain Bread is a great additive-free option.
Flourless Chocolate and Raspberry Brownies
Chocolate lovers this indulgent (and gluten-free) dessert is for you. Omit coffee if you prefer and enjoy the richness of this cake interspersed with a little raspberry zing.
Quinoa, Coconut and Salted Peanut Butter Cookie Dough Bites
There's also something for peanut butter lovers. Probably one of my favourite treats to keep on stand by in the fridge and a great game time desserty snack.
Mini Churros with Chilli Chocolate Sauce
These gluten-free churros are super easy to make and gluten-free too! Opt for dairy-free chocolate for the sauce and use a choice of unrefined caster sugar (such as Billington's) or granulated stevia to coat.